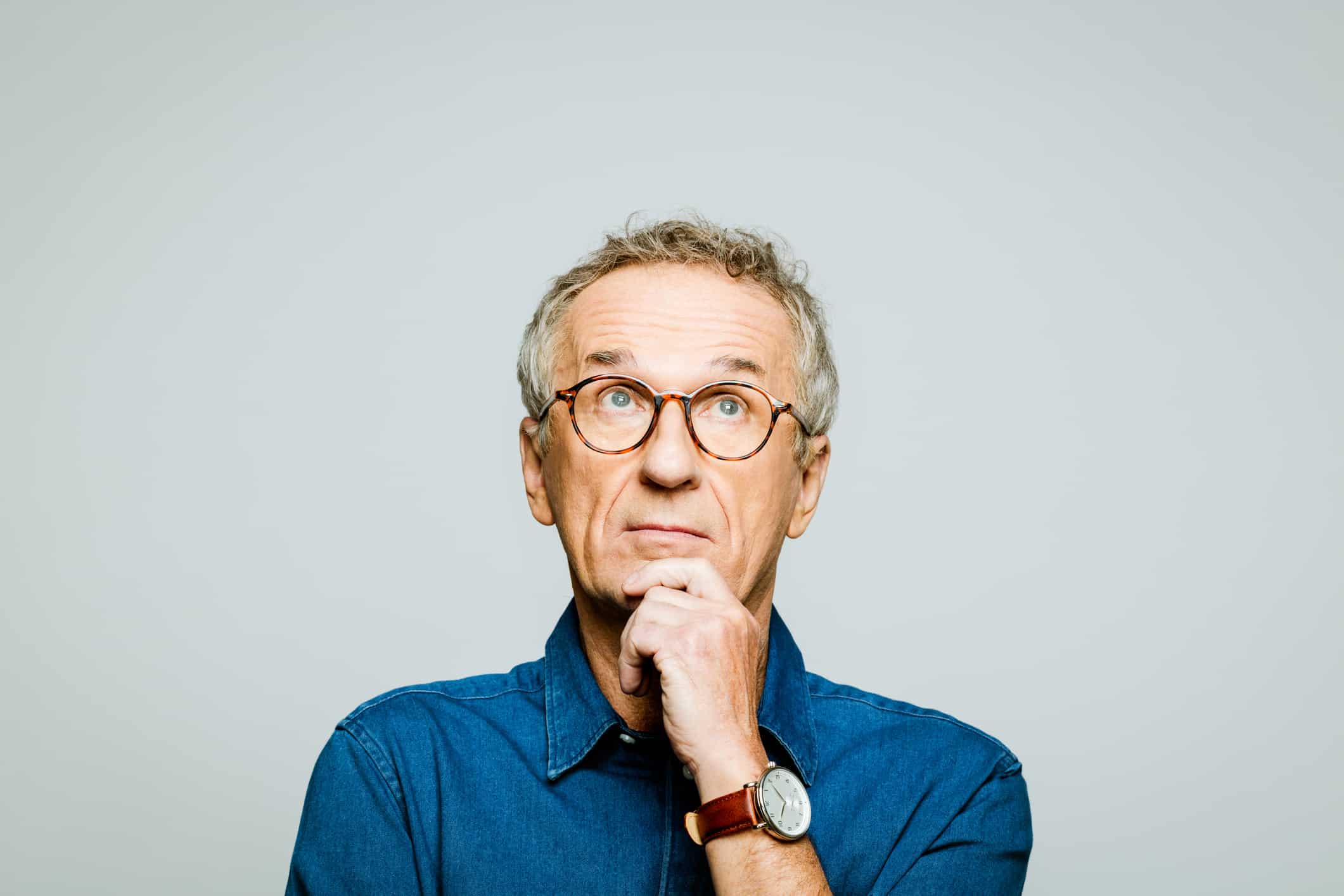 Portrait of elderly man wearing white denim shirt and glasses looking up with hand on chin. Thoughtful senior entrepreneur, studio shot against grey background.
Over the last five years, the Lloyds Banking (LSE:LLOY) share price has fallen by 28%. With a dividend yield of 5.28%, it now looks like a great opportunity for investors.
According to Warren Buffett, when it rains gold, investors should put out the bucket, not the thimble. And I think the Lloyds share price should have investors reaching for the bucket.
Investment returns
As Buffett points out, investing in stocks is about laying out money today in order to get more back in the future. And the return comes from the cash the underlying business generates.
In the case of Lloyds, the company's 45p share price implies a total stock market value of around £30bn. So can the business produce enough cash to provide a good enough return on a £30bn investment?
At first sight, things look encouraging – the company generated around £5.5bn in net income (which equates to about 7p per share). At today's prices, this amounts to a return of around 16%.
That's a great result for anyone who owned the stock last year, but the real question is how much the company is going to produce going forward. And there's a real risk future earnings might be lower.
Earnings outlook
Analysts are expecting Lloyds to make less money over the next few years. The average earnings estimate for the next three years is around £4.9bn per year, rather than the £5.5bn the company managed in 2022.
This would mean earnings per share of around 6p per share, rather than the 7p generated last year. But based on today's 45p share price, that's an annual return of 13%, which is still very attractive.
The company's earnings have been quite volatile, though. Over the last decade, the average earnings per share generated by Lloyds has been 3.4p.
At 45p per share, 3.4p in earnings would amount to a return of 7.5% per year. That's still not bad – the average annual return from the FTSE 100 is closer to 6% – but is it worth putting the bucket out for?
Alternative opportunities
Whether or not buying Lloyds shares is a good idea partly comes down to what other opportunities there are. This include both bonds and other stocks.
Right now, a 10-year UK government bond comes with a 4% yield. At today's prices I think shares in Lloyds Banking Group are likely to offer a better return.
Elsewhere in the stock market, Experian has a market cap only slightly lower than Lloyds. But the company's net income came in much lower last year, at £763m.
It's true Experian has grown its earnings more consistently than Lloyds has. But the difference today looks big enough to make me think Lloyds is the better bet going forward.
Future earnings might be difficult to forecast exactly, but I think there's a good margin of safety in Lloyds shares at the moment. If I had cash to invest, I'd be looking to buy the stock.
Don't miss this top growth pick for the 'cost of living crisis'
While the media raves about Google and Amazon, this lesser-known stock has quietly grown 880% – with a:
Greater than 20X increase in margins
Nearly 60% compounded revenue growth over 5 years – more than Apple, Amazon and Google!
A 3,000% earnings explosion
Of course, past performance is no guarantee of future results. However, we think it's stronger now than ever before. Amazingly, you may never have heard of this company.
Yet there's a 1-in-3 chance you've used one of its 250 brands. Many are household names with millions of monthly website visitors, and that often help consumers compare items, shop around and save.
Now, as the 'cost of living crisis' bites, we believe its influence could soar. And that might bring imminent new gains to investors who're in position today. So please, don't leave without your FREE report, 'One Top Growth Stock from The Motley Fool'.
Claim your FREE copy now
More reading
Stephen Wright has no position in any of the shares mentioned. The Motley Fool UK has recommended Experian Plc and Lloyds Banking Group Plc. Views expressed on the companies mentioned in this article are those of the writer and therefore may differ from the official recommendations we make in our subscription services such as Share Advisor, Hidden Winners and Pro. Here at The Motley Fool we believe that considering a diverse range of insights makes us better investors.
News Related
OTHER NEWS