Ilustrasi wajah beruntusan. Foto: Backgroundy/Shutterstock
Wajah yang tiba-tiba mengalami beruntusan masih menjadi salah satu masalah kulit yang sering dikeluhkan perempuan. Munculnya permasalahan kulit tersebut membuat tidak nyaman karena selain mengganggu penampilan, biasanya juga diikuti oleh rasa gatal dan kulit yang sangat kering.
Kondisi kulit beruntusan tentunya dapat menurunkan kepercayaan diri. Pasalnya, beruntusan memiliki tampilan kulit yang merah, berbentuk seperti benjolan, dan muncul secara bersamaan di area tertentu pada wajah.
Apakah kamu juga kerap menghadapi persoalan kulit tersebut? Nah, kamu tidak perlu khawatir karena beruntusan ternyata bisa diatasi dengan cara yang tepat.
Untuk membantu kamu mengatasinya, kumparanWOMAN dalam program, spesial Ask The Expert telah bertanya langsung pada ahlinya mengenai kulit beruntusan. Berikut penjelasan selengkapnya dari dr. Dartri Cahyawari, SpDV, Dermato-Venereologist atau Dokter Spesialis Kulit dan Kelamin dari Klinik Evitderma Hang Lekir, Jakarta Selatan.
Apa itu beruntusan dan apa penyebabnya?
Ilustrasi perempuan sedang memperhatikan beruntusan. Foto: Shutterstock
Beruntusan bukanlah suatu penyakit, melainkan suatu gejala permasalahan kulit yang disebut papula. Papula bisa disebabkan oleh beberapa hal, seperti yang terdapat pada jerawat, kulit eksim atau dermatitis, bisa karena paparan sinar matahari, serta penyakit kulit berupa jamur ataupun bakteri.
Selain itu orang yang memiliki alergi obat juga dapat mengalami kondisi kulit beruntusan. Jadi, beruntusan tidak selalu disebabkan oleh jerawat saja ya, Ladies.
Apakah bekas beruntusan bisa hilang?
Ilustrasi berkonsultasi dengan dokter tentang beruntusan. Foto: Shutterstock
Bekas yang ditinggalkan tergantung dari seberapa parah kondisi kulit yang beruntusan tersebut. Kalau peradangannya semakin hebat, maka bisa meninggalkan bekas. Misalnya pada beruntusan yang disebabkan oleh jerawat, peradangan yang ektrem bekasnya akan menjadi scars atau bopeng. Pada kulit yang mengalami dermatitis, bekasnya akan berwarna kehitaman atau bisa jadi lebih putih dari jaringan kulit di sekitarnya.
Kulit yang beruntusan ini bisa dihilangkan, lho, Ladies. Caranya yaitu dengan mengatasinya tepat sesuai penyebab beruntusan. Jika penyebabnya adalah jerawat, maka obati beruntusan tersebut sesuai dengan cara menyembuhkan jerawat. Untuk penyebab lainnya juga harus diobati sesuai dengan hasil diagnosis kulit.
Mengapa beruntusan sering muncul di area dahi?
Beruntusan sering terlihat pada area dahi, misalnya yang disebabkan oleh jerawat bisa jadi karena pada area tersebut kelenjar memproduksi sebum lebih aktif. Namun belum ada penelitian ilmiah yang menjelaskan posisi beruntusan yang kerap muncul pada area tertentu di wajah.
Selain itu, untuk kondisi kulit dermatitis seboroik atau eksim, hal tersebut bisa terjadi karena kamu stres sehingga kelenjar jadi lebih aktif dan memunculkan beruntusan khusus di dahi. Untuk beberapa kasus dermatitis tertentu, beruntusan memang hanya terjadi khusus di sekitar dahi saja.
Saat datang bulan beruntusan jadi lebih banyak, mengapa demikian?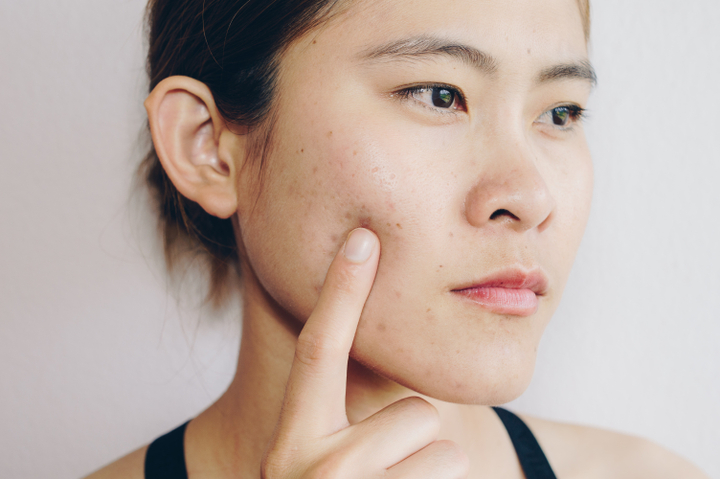 Ilustrasi beruntusan. Foto: Shutterstock
Ladies merasakan saat menstruasi kondisi kulit jadi lebih sering mengalami beruntusan? Ya, kondisi ini memang saling berpengaruh. Periode datang bulan membuat hormon perempuan (esterogen) pada tubuh jadi lebih banyak, yang mengaktifkan kelenjar sebum di kulit. Kelenjar sebum yang aktif itu akan memproduksi minyak berlebih pada kulit. Nah, produksi sebum yang tinggi tersebut akhirnya menyebabkan peradangan pada folikel. Hal inilah yang menjadi penyebab timbulnya tonjolan atau beruntusan di wajah kamu.
Bagaimana perawatan wajah yang tepat untuk kulit beruntusan?
Pertama, Ladies harus mengetahui diagnosisnya terlebih dahulu. Kenali apa penyebab dari beruntusan kamu. Apakah disebabkan oleh jerawat, kondisi kulit eksim, dan jamur maupun bakteri. Sesuaikan skin care routine kamu dengan kondisi kulit penyebab beruntusan tadi ya, Ladies.
Untuk jenis beruntusan karena jerawat, kamu perlu menggunakan produk anti-acne seperti asam salisilat, niacinamide, salicylic acid, dan retinol. Akan tetapi, bagi Ladies dengan kondisi jerawat yang parah, sebaiknya kunjungi dokter kulit untuk mendapatkan penanganan yang optimal.
Kandungan skin care apa yang tidak boleh digabungkan guna menghindari beruntusan?
Hindari penggunaan skin care yang menggabungkan retinol dengan salicylic acid atau AHA. Untuk mengatasi beruntusan, kamu bisa memakai retinol dengan kombinasi dari niacinamide atau hyaluronic acid, bahan ini sangat baik dipakai bersamaan dan dapat membuat kulit tampak sehat.
Bagi yang mengalami eksim, penggunaan retinol tidak akan berpengaruh pada kulit beruntusan. Kondisi kulit beruntusan akibat tidak bisa diatasi dengan kandungan retinol ya, Ladies.
Apa benar bawang putih bisa mengobati kulit beruntusan?
Bawang putih cincang yang dicampur dengan air mawar bisa mengatasi jerawat pada kulit sensitif. Foto: Shutterstock
Bawang putih yang utuh sebaiknya tidak digunakan langsung di wajah. Sebab, bawang putih yang langsung digeprek dan dioleskan pada wajah itu masih mengandung asam dan getah. Penggunaan bahan ini akan menyebabkan alergi karena asam dan getahnya terdiri atas molekul yang besar.
Nah, Ladies, itulah penjelasan mengenai beruntusan dan bagaimana cara mengatasinya dalam program Ask the Expert. Penasaran ingin mengetahui penjelasannya lebih lengkap? Yuk saksikan video Ask The Expert di kanal YouTube kumparanWOMAN.
News Related
OTHER NEWS