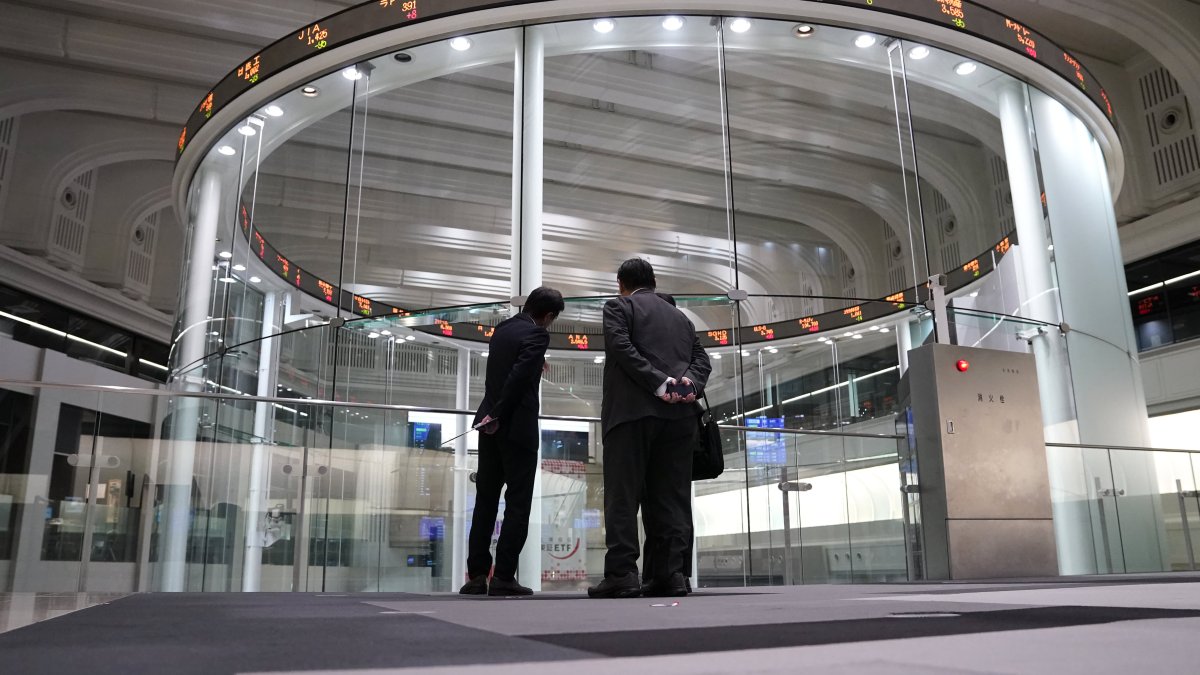 This is CNBC's live blog covering Asia-Pacific markets.
Shares in the Asia-Pacific are set to fall on Thursday after Wall Street's two-day rally fizzled.
The Nikkei futures contract in Chicago was at 27,100 while its counterpart in Osaka was at 27,070. That's slightly lower compared against the Nikkei 225's last close at 27,120.53.
In Australia, the S&P/ASX 200 fell 0.34%. Mainland China markets are closed for a holiday this week.
U.S. stocks slipped overnight after seeing sharp gains for the previous two sessions. The Dow Jones Industrial Average shed 42.45 points, or 0.14%, to 30,273.87 after falling nearly 430 points earlier in the day. The S&P 500 dipped 0.2% to close at 3,783.28, and the Nasdaq Composite declined 0.25% to 11,148.64.
"The optimism that buoyed financial markets earlier this week receded as U.S. data continued to articulate the need for further, decisive central bank policy action," according to an ANZ Research note Thursday.
September's ISM services index and the private payrolls report by ADP both beat estimates overnight. Investors will be looking ahead to the Bureau of Labor Statistics' nonfarm payrolls report at the end of the week.
— CNBC's Tanaya Macheel and Sarah Min contributed to this report.
October could be the start of a bull market rally, Detrick says
Even though stocks pulled back Wednesday, stopping a major two-day win streak, October may still be the start of a new bull market rally according to Ryan Detrick, chief market strategist at Carson Group.
"We think this could be the start of a pretty decent-sized end of year rally," Detrick said during CNBC's "Closing Bell: Overtime."
That's because, traditionally, stock performance improves in October in midterm election years, said Detrick.
He also noted that even though markets ended the day lower, stocks posted a major rally in the afternoon that regained a lot of lost ground. That's a positive, according to Detrick.
—Carmen Reinicke
Fed's Bostic says these are just the 'early days' of the inflation fight
Atlanta Federal Reserve President Raphael Bostic talked tough on inflation in a speech Wednesday, saying the central bank still has a lot of work to do before it can declare victory.
"We must remain vigilant because this inflation battle is likely still in early days if the projections of my [Federal Open Market Committee] colleagues are correct," Bostic said in a speech to Northwestern University's Institute for Policy Research.
Bostic added that it likely "will take some time" to get inflation back to the Fed's 2% target as "we are still decidedly in the inflationary woods, not out of them."
From a rates perspective, Bostic said he envisions the Fed's benchmark levy rising to a 4%-4.5% before policymakers can take a step back to evaluate progress. The fed funds rate currently sits in a range of 3%-3.25%; projections the FOMC released in September foresee rates rising to 4.6% in 2023, putting Bostic slightly to the dovish side of the committee.
However, he added that he would say to anyone expecting the Fed to cut rates next year, "Not so fast."
Bostic is not a voting member of the FOMC either this year or next, though he does get to voice his policy stance during meetings.
—Jeff Cox
News Related
OTHER NEWS