Armed police units have docked at Portland Port, a dock in Dorset, before The Bibby Stockholm Barge arrives in the coming weeks.
The 305ft barge will house up to 500 migrants and will be used by the Home Office as a space to home hundreds of male asylum seekers.
Pictures show the armed officers gathering to board boats at the port. The Bibby Stockholm Barge originally arrived in Britain last month, where it docked in Falmouth.
Before its journey to Dorset, it is being checked and refurbished.
The barge is part of a new scheme from the British Government that aims to move asylum seekers on from hotel accommodation.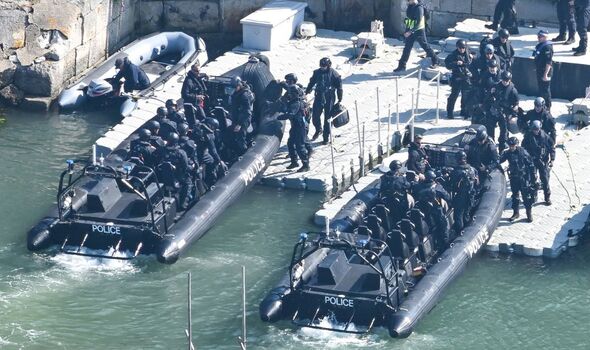 Armed police descend on UK port before arrival of 305ft barge to house migrants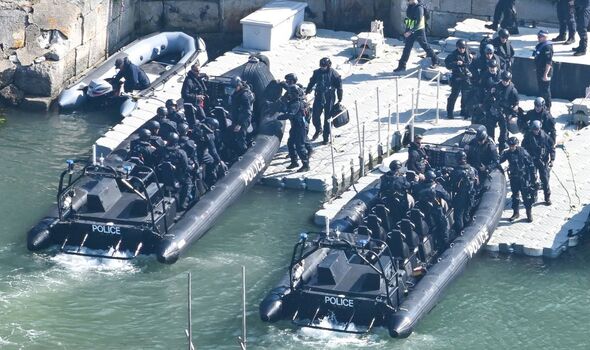 Armed police descend on UK port before arrival of 305ft barge to house migrants
According to the Home Office, asylum seeker hotels cost the British public around £6million every day.
Last month, Dorset's police and crime commissioner, David Sidwick, urged Home Secretary Suella Braverman to offer additional police officers in support of his county when the vessel arrived.
A Home Office spokesperson said: "The pressure on the asylum system has continued to grow and requires us to look at a range of accommodation options which offer better value for the British taxpayer than expensive hotels.
"This is why we continue to source new alternative sites and vessels to accommodate migrants, which are more manageable for communities, as our European neighbours are doing.
"We understand the concerns of local communities and will work closely with councils and key partners to manage the impact of using these sites, including liaising with local police to make sure appropriate arrangements are in place."
This call was followed by the leader of Dorset Council, Cllr Spencer Flower, said, as news emerged the vessel would dock in the region, that he had "serious reservations about the appropriateness of Portland Port in this scenario and we remain opposed to the proposals".
He noted: "However, like all local agencies, we have statutory responsibilities to fulfill and collectively we want to ensure robust arrangements are in place if this goes ahead."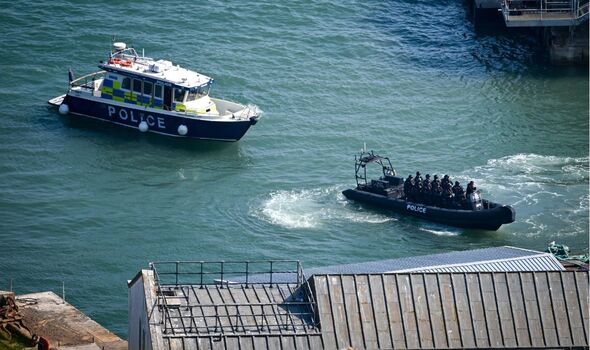 The migrant boat had been in Falmouth last month
The council leader added: "We still have unanswered questions which we are waiting for the Home Office and the barge operator to respond to.
"I want to reassure local people and businesses that Dorset Council, along with its trusted partners, is working to address concerns."
That intervention came as more small boats carrying migrants across the English Channel at locations throughout Dover, Kent across the Bank Holiday last month.
At least 6,500 migrants arrived via the unauthorised route in 2023 so far.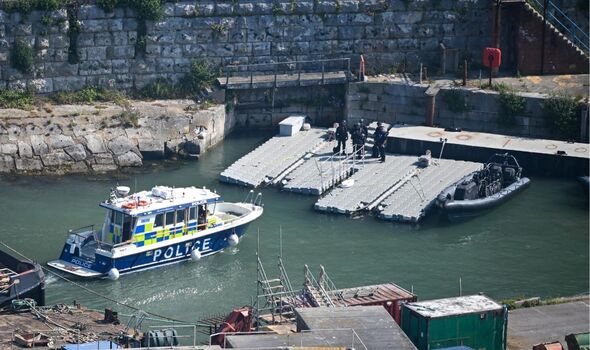 Debate within Dorset Council has led some to question the Home Office's decision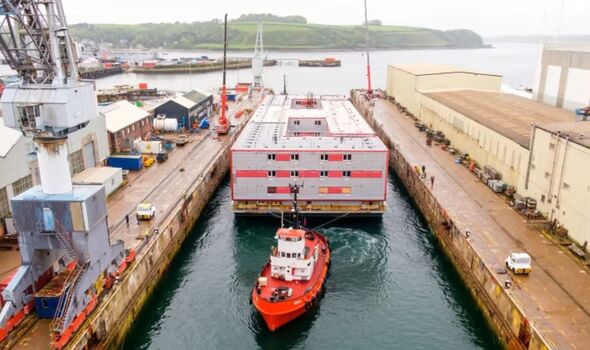 The Bibby Stockholm
Last night, the Dorset Echo reported, residents gathered in Easton to raise their own concerns about the asylum seeker boat.
Representatives from Dorset Police, Portland Town Council, Dorset Council and Dorset Healthcare were in attendance. Home Office spokesman Roy Payne was also present.
Mr Payne told residents the barge was a "temporary situation" in order to help alleviate the hotel bill facing taxpayers.
He described the barge as "decent accommodation" that had been checked over by officials inside NHS Dorset.
News Related
OTHER NEWS