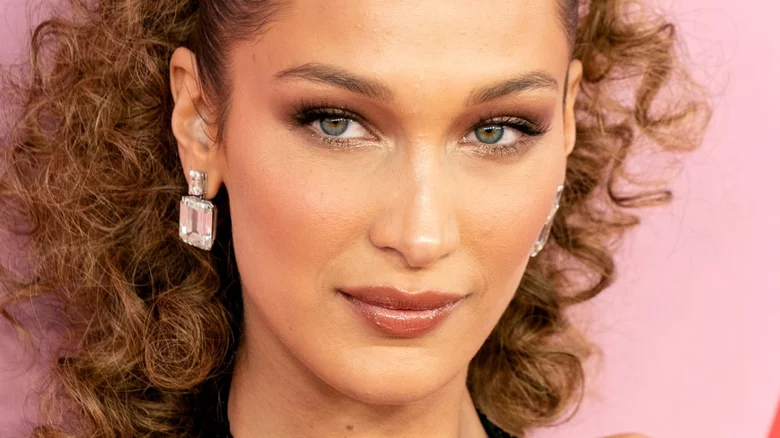 Ovidiu Hrubaru/Shutterstock
For three seasons now, the Hulu comedy-drama series "Ramy" has been standing out as one of the freshest, most memorable TV series of the streaming era. Something about the particular way that the show tells the stories of its characters, always with wry humor and a lightness of touch but without lacking for gravity and emotional insight, marks it down as a uniquely affecting experience season after season. That is, once again, very much the case of the newly-premiered 3rd season, which finds the Hassan family caught in the midst of major personal turmoil.
One of the season's biggest sources of hype for some time now has been the fact that it's bringing American supermodel Bella Hadid into the fold, in her scripted acting debut. Hadid has a guest role on the 4th episode of the season, "That's What She Said," playing Lena, the girlfriend of Ramy's friend Steve (Steve Way). Although many fans of both Hadid and the show harbored some expectation that she'd be playing a character in keeping with the mighty larger-than-life energy of her model persona, the role actually outs Hadid as a major goofball: Lena is an absurdist comic figure, a woman whose primary personality trait is being absolutely obsessed with "The Office." (Even the episode's title comes from her mistimed use of the famous Michael Scott catchphrase.) She fits right in with the universe of "Ramy" — but are Hadid and series creator-slash-star Ramy Youssef friends in real life? As a matter of fact, it seems that they are.
Bella Hadid became close friends with Ramy Youssef prior to starring on Ramy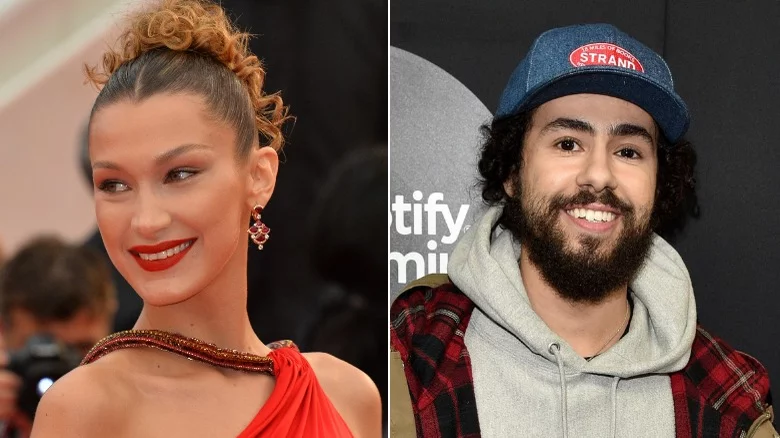 Featureflash Photo Agency/Shutterstock & Bryan Bedder/Getty
It's no coincidence that Bella Hadid was able to blend so well into the alchemy of "Ramy" in her appearance as Lena. Prior to stepping onto the set of the beloved Hulu show, Hadid became close pals with Ramy Youssef.
The deets on the evolution of the friendship were revealed in August 2022, in a profile of Hadid and Youssef written by Sarah Hagi for GQ. The profile reveals that the two first met when Youssef emailed Hadid "out of the blue" to ask if she'd be interested in making a guest appearance on the show. Youssef may have been motivated by the fact that the two already shared an "overlapping network of friends and creative confidants," owing in part to both Hadid, who is of Palestinian descent, and Youssef, who is Egyptian-American much like his "Ramy" character, being Muslim. Not only is Youssef friends with Hadid's brother Anwar Hadid, but the two also had Sudanese-Canadian musician Mustafa the Poet as a friend in common.
So Youssef sent the email, and, after discussing the idea further in a lengthy Zoom convo, Hadid excitedly agreed. "I was like, this is perfect," the superstar model told GQ. "We hadn't even met before, but I had a feeling it was gonna be kismet." Sure enough, kismet seems like just the word to describe Hadid fitting right into the "Ramy" cast despite her lack of prior acting experience.
Hadid and Youssef bonded over shared cultural concerns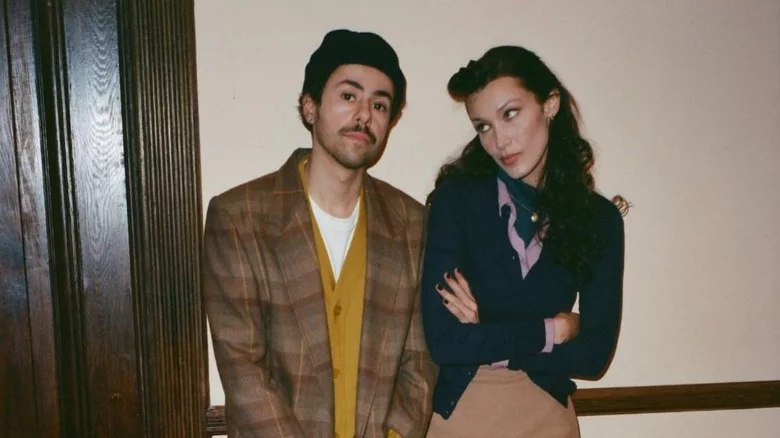 Bella Hadid/Instagram
Per the GQ profile, Hadid has spent the last few years on a journey of self-rediscovery as a Muslim woman. Born in Washington, D.C. to a Palestinian father and a Dutch mother, she spent her early years among her Palestinian family in D.C., only to get uprooted when her family relocated to Santa Barbara, California, while Hadid was still a toddler. Growing up as one of the few people of Arab descent in her social circles, she felt disconnected from her Muslim heritage. "I would have loved to grow up and be with my dad every day and studying and really being able to practice, just in general being able to live in a Muslim culture," the model told GQ. "But I wasn't given that."
This sense of longing to get back in touch with her cultural roots allowed Hadid to find a kindred spirit in Youssef, who understood what she was going through. "Bella's telling you she feels this deep connection when she's in a mosque or when she's praying, but there's also this hesitation to say 'Muslim' because of this specificity of what that can look like," the actor and writer told GQ.
Becoming close with Youssef helped Hadid work through that conundrum. "There was one time where Ramy came over during Ramadan and allowed me to pray with him," she revealed. "And it was one of the most beautiful moments of my adult life."
Being on Ramy has allowed Hadid to usher in a newfound sense of community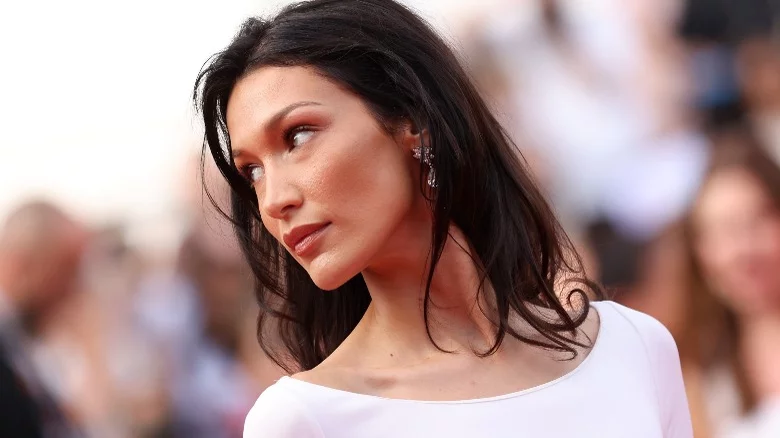 Vittorio Zunino Celotto/Getty Images
As the profile reveals, signing on for a guest spot on "Ramy" "felt like a natural step" for Hadid in her personal journey of cultural reconnection. And, when the time came to shoot the episode, the experience turned out to be even more rewarding than she could have anticipated. On her first day on set, the crew of "Ramy" gifted her a T-shirt with "Free Palestine" written on it. For Hadid, who has been a longtime outspoken advocate for the rights of the Palestinian people, the gesture was overwhelming enough to make her cry. "I couldn't handle my emotions," she told GQ. "Growing up and being Arab, it was the first time that I'd ever been with like-minded people. I was able to see myself."
Mustafa the Poet, also known mononymously as Mustafa, was particularly happy for Hadid in light of that newfound sense of belonging. "Bella's been at the center of a world that doesn't acknowledge what it's like to be a Muslim at any of the intersections," he told GQ. "She's sometimes the only Muslim or Arab person in a room, so it's great to see Bella surrounded by her community."
That bonding experience offers further proof of Youssef's ability to "cultivate community" and "[make people] feel like Muslim spaces are welcome to everyone," as Mustafa put it — which might help explain why he's managed to craft a panorama of American Muslim experience as emotionally generous as "Ramy."
Hadid's guest spot was praised for broadening horizons of representation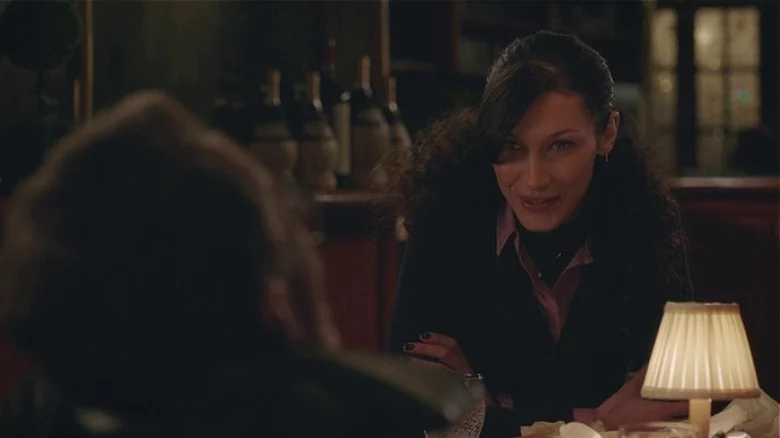 Hulu
One of the things that make "Ramy" such a special show is the fact that it allows the varied experiences and perspectives of its Muslim-American characters to exist full-fledged on screen, in all their human messiness and complexity and fallibility, without trying to paint the Hassans or any other characters as model minorities of some kind. That aspect of the show is on full display in "That's What She Said," and especially in Bella Hadid's appearance. Lena is the kind of eccentric, uniquely funny character that many lesser shows wouldn't allow actors of color to have fun with, and especially not actors as hype-driving as Hadid.
Unsurprisingly, the model's casting in the role was praised across the board by critics, including Vanity Fair's Yohana Desta, who called it "a savvy move for the show, which sought to widen the scope of Muslim life represented onscreen after its insular 1st season focusing on Ramy and his family … The role is gently bizarre and unexpected, a hard left from any perception one might have of Hadid's own real-world persona."
As Ramy Youssef told E!, "Just from talking with her and getting to know [Hadid], I was certain that her emotional access as a person, she's such a cool person, I felt really confident that that would translate on the screen." And indeed it does; it's clear, watching the episode, just what a big deal the role is for the actress slipping into it.
News Related
OTHER NEWS