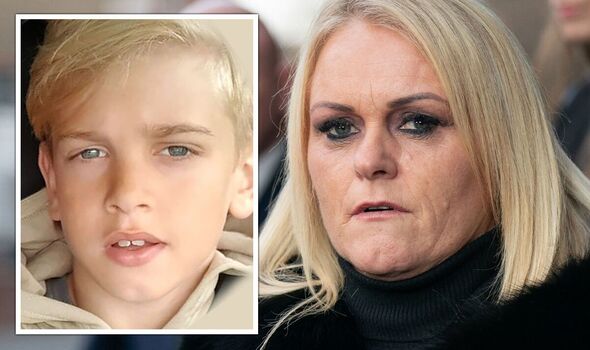 Archie Battersbee's mother orders law change
Archie Battersbee's mother Hollie Dance is expected to call for changes in the law when she gives evidence to the Nuffield inquiry into the death of her son tomorrow (Mon).
Hollie, 47, believes parents of terminally-ill children are being stripped of their rights by the law courts and left powerless in the face of medical authority.
She told the Daily Express: "We want to see changes in the law that mean parents cannot just be stripped of their rights and effectively have no say in the treatment of their children.
"I want to make sure that no other family has to experience what we were made to go through."
Archie was just 12 when he suffered brain damage last year and a High Court judge ruled that ending life support was in his best interests.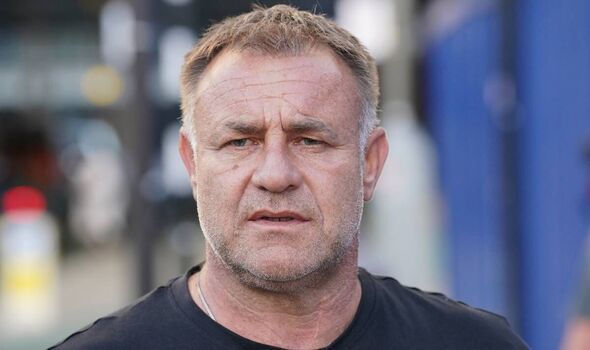 Archie's father Paul Battersbee
Hollie and Archie's father Paul Battersbee fought a desperate battle to reverse the decision but failed to persuade appeal judges to overturn the ruling last August.
She is expected to tell the Nuffield Council on Bioethics that the decision to withdraw life support just three weeks after his accident was "unduly hasty".
She will tell the review of the difficulties she faced dealing with the High Court while not properly represented by a barrister.
Hollie is also expected to highlight the fact that the state insisted on ending Archie's life when alternative palliative treatments and the funding for them had been successfully arranged.
The mother of three said: "When the High Court gave its judgement we had no legal representation whatsoever.
"We were coping with the shock of what had happened to Archie and we were not in a state to start thinking about the law and legal arguments.
Don't miss…Stabbing victim in Manchester horror attack is named as heartbroken family pays tribute [LATEST]Joe Abbess, 17, who died on Bournemouth Pier is pictured as heartbroken family pay tribute [UPDATE]Inside the eerie abandoned hospital where lights still work years after it was ditched [INSIGHT]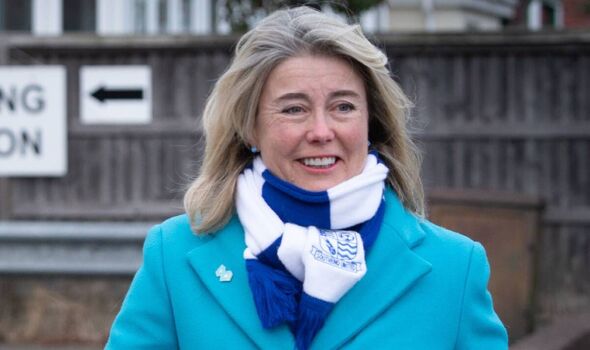 Hollie's MP Anna Firth has been advising her
"That has to change so that parents have effective representation from day one if something like this happens again.
"The other thing is that the NHS Trust refused to let us take Archie to a hospice where he would have had a much more calm and peaceful environment.
"The hospital was such a noisy place we did not feel it was good for him to be there but our views, our wishes and our rights were just ignored.
"I gave birth to that boy but my wishes about what should happen to him were treated as irrelevant. That has to change."
Hollie's MP Anna Firth, a barrister before entering parliament, has been advising her and and supports her call for a change in the law.
She believes that decision to refuse to release Archie to the care of his family because he might die in an "undignified" manner was "at best intellectually incoherent and at worst a shocking level of Orwellian "state-knows-best" interference".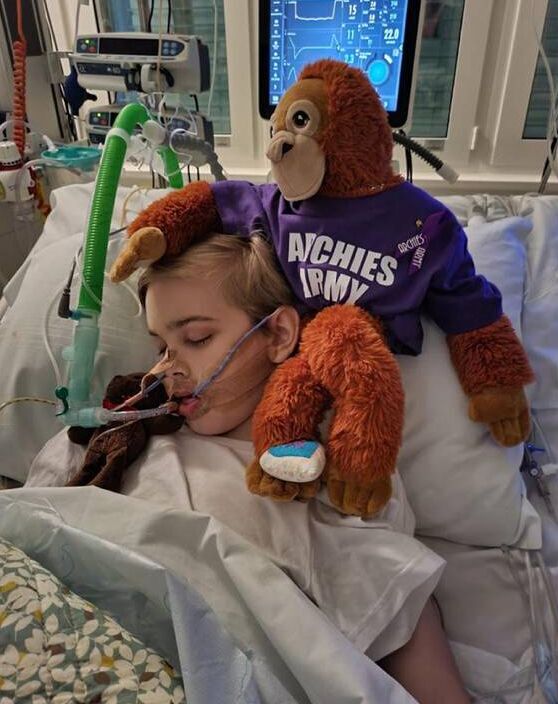 Archie was rushed to the Royal London Hospital
A friend of the family added: "We believe the court room is simply not the right place for settling these disputes.
"Mediation is widely used to settle family disputes. We need a system of medical mediation where these highly upsetting and diffcult disputes can be settled outside court.
"Moving a terminally ill child, even one needing mechanical ventilation to a hospice to die, should be considered the norm if the parents wish it. It was deeply disappointing that Archie's family's wish for this to happen was not accommodated."
Hollie found her son unconscious with a ligature over his head at home in Southend, Essex, on April 7, 2022. She believes Archie, a telented gymnast, was taking part in some sort of online stunt or challenge that went tragically wrong.
He was rushed to the Royal London Hospital in a coma where he was placed on a ventilator but did not regain consciousness.
His parents had taken their fight for ongoing treatment, and subsequently for him to be moved to a hospice, to the Supreme Court and the European Court of Human Rights.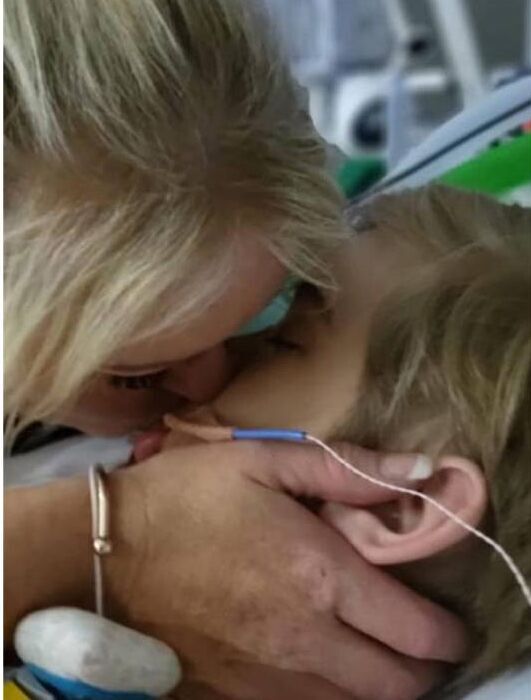 Hollie with Archie in hospital
The Government-commissioned Nuffield review will examine all of the circumstances surrounding Archie's death.
Hollie will give her evidence to the Council at a private hearing close to her home in Southend. The Nuffield review will also examine circumstances surrounding the death of Charlie Gard in July 2017.
Charlie's parents lost their fight to have their 11 month old baby son transferred from Great Ormond Street hospital in central London for treatment elsewhere.
He was born with mitochondrial DNA depletion syndrome, a rare genetic disorder that causes progressive brain damage and muscle failure.
In September, Tory peer Lord Kamall told the House of Lords the new review would examine all the issues and will "attach no blame".
He said: "We want to hear from as many people as possible. It will investigate the causes of disagreements in the cases of critically ill children between providers of care and persons with parental responsibility.
"It will look at whether and how these disagreements can be avoided, how we can sensitively handle their resolution, provide strong evidence and inform future recommendations to support end-of-life healthcare environments in the NHS.
"As much as possible, it will promote collaborative relationships between families, carers and healthcare.
"We can see it from both sides – as a parent, just put yourself in the shoes of someone who has to make these difficult decisions.
"Sometimes they feel that the medical profession acts like God. On the other side, there are medical professionals who believe that the parents do not really understand all the details. Let us make sure that we get this right."
7 April 2022
Archie's mother, Hollie Dance, finds him unconscious at her home in Southend-on-Sea, Essex, with a ligature around his neck, which leads her to believe he may have been doing an online challenge that went wrong. He is taken to hospital with traumatic head injuries.
8 April
He is admitted to the Royal London Hospital where he is placed on a ventilator to keep him alive.
26 April
Barts Health, the NHS trust in charge of Archie's care, start proceedings in the High Court to test his brain stem and to withdraw mechanical ventilation. Doctors believe it is "highly likely" that the child is in effect dead and that it is in his best interests to stop life-support treatment.
13 May
Mrs Justice Arbuthnot, a high court judge, rules that a brain stem test would be in Archie's best interests.
16 May
Specialists carry out a nerve stimulation test on Archie but do not detect a response.
6-8 June
In the family division of the high court, Arbuthnot oversees three days of evidence and argument about Archie's treatment.
According to doctors, it is "very likely" that he is "brain-stem dead" but lawyers representing his family argue that his heart is beating and that they want to continue with care.
13 June
The high court judge rules that Archie is dead and that doctors can legally stop his treatment, but Archie's family say they will appeal.
20 June
Archie's parents are given permission to appeal against the high court's decision.
29 June
Archie's parents are "delighted" after three appeal judges rule that evidence relating to what is in Archie's best interests should be reconsidered by another high court judge.
11 July
Mr Justice Hayden hears evidence in the high court from doctors that carrying on Archie's treatment will simply "delay the inevitable". But Hollie says he is a "natural-born fighter" and asks doctors to continue their care.
15 July
Hayden rules in favour of the hospital trust, saying: "There can be no hope at all of recovery." Archie's parents say they will seek for his decision to be overturned by the court of appeal.
21-22 July
Andrew McFarlane, the president of the high court's family division and the most senior family court judge in England and Wales, and two other judges are told in a hearing that Archie is in a "comatose state".
25 July
The three court of appeal judges rule that doctors can stop providing life support to Archie, after which his family say they will appeal to the European court of human rights (ECHR).
28 July
The supreme court denies Archie's family's request to intervene.
29 July
Archie's family apply for a UN committee to step in.
31 July
Royal London hospital sets a date for Archie's treatment to be withdrawn, on 1 August at 2pm. The court of appeal grants a virtual hearing for 11am on the same day after the British government asks it to "urgently consider" a UN request to carry on treatment while they look at the case.
1 August
The court of appeal rejects a request to postpone ending his treatment and that his care will end at midday the next day.
2 August
Archie's parents are refused permission to appeal against the supreme court's ruling and Hollie says Barts Health will start withdrawing his life support on 3 August at 11am unless they have submitted an application to the ECHR by 9am.
3 August
The ECHR refuses their application and Archie's family say they plan to ask the high court to move Archie to a hospice.
4 August
His parents formally lodge high court proceedings to move Archie to hospice care, which the hospital is against, and there is a hearing at the Royal Courts of Justice.
5 August
Mrs Justice Theis rules it is not in the child's best interests to be moved to a hospice and refuses the family permission to appeal. Their application to the ECHR, arguing that the high court's ruling violated the European convention on human rights, fails.
The family is told that Archie's life support will be turned off at 10am on Saturday.
6 August
Archie's mother announces outside the Royal London hospital that her son has died.
What happened to Archie Battersbee is a heartbreaking tragedy and every parent's worst nightmare, a mortally wounded child beyond the reach of parental help.
In spite of admission to one of the world's leading hospitals for brain injury the wonders of modern medicine were unable to bring him back.
A judge ruled that it was in the best interests of the youngster, who was just 12, to withdraw his life support.
All the parents wanted was to take Archie to the more calming environment of a hospice while they satisfied themselves that every possibility of an effective treatment had been fully explored.
Even if such enquiries had failed completely, Archie would at least have passed away in a quieter and more peaceful environment than the frantically busy Royal London.
This wish was denied by the state as judges repeatedly ruled that the parents could not know better than the clinicians.
The Nuffield review into this case will examine every aspect of this decision and it is important that Hollie's experience is listened to carefully.
She feels her rights as a mother were stripped away to the point of non-existence and she was left feeling utterly powerless in addition to being grief-stricken.
Management of cases as tragic and difficult as Archie's needs to be better than this.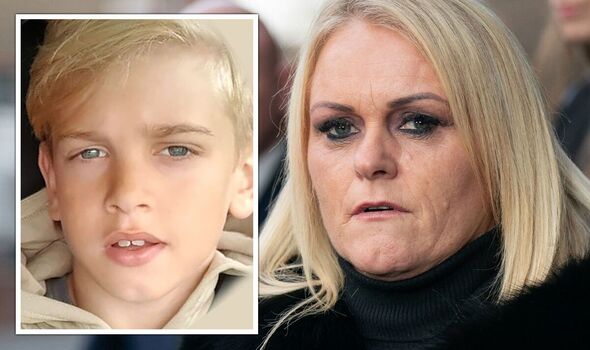 Archie Battersbee's mother orders law change
News Related
OTHER NEWS