Jakarta, IDN Times – Gubernur DKI Jakarta, Anies Baswedan mengubah nomenklatur 22 nama jalan di DKI Jakarta.
Imbasnya, mulai besok, Rabu (29/6/2022) Dinas Kependudukan dan Pencatatan Sipil (Disdukcapil) Provinsi DKI Jakarta secara proaktif bakal melakukan layanan jemput bola bagi warga terkena dampak perubahan nama jalan.
Layanan jemput bola dilakukan dengan membuka posko layanan penerbitan dokumen kependudukan baru serentak di 5 wilayah kota dan 1 kabupaten administrasi, mulai pukul 09.00 sampai pukul 12.00 WIB.
1. Ada sosialisasi door to door
© Disediakan oleh IDN Times
Anies Ganti Nama Jalan, Ada 5.637 Warga Wajib Ganti KTP Mulai 29 Juni 
Selain itu, juga dilakukan sosialisasi secara door to door untuk mengajak warga mendatangi posko layanan.
Kepala Dinas Dukcapil DKI Jakarta, Budi Awaluddin menyatakan layanan jemput bola tersebut dilakukan untuk memberi kemudahan dan kenyamanan terhadap masyarakat yang ingin mengubah alamat sesuai penamaan jalan yang baru.
"Masyarakat hanya perlu membawa dokumen (KTP, KK, KIA) lama untuk kami ganti dengan yang baru. Bagi masyarakat yang mempunyai kendala secara medis atau tidak mampu datang ke posko layanan, akan kami antarkan secara langsung ke rumahnya," terang Budi pada Selasa (28/6/2022).
2. Pergantian nama berimbas pada kolom alamat KTP dan KK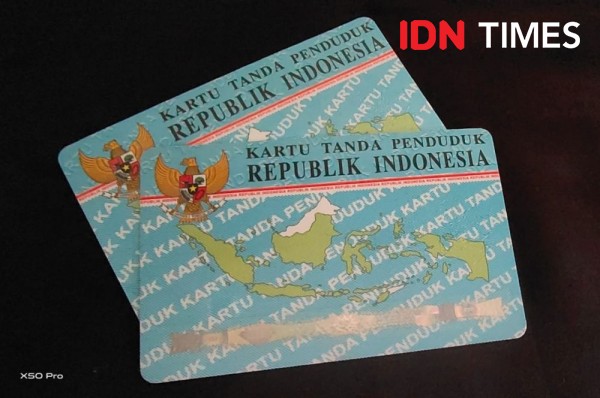 © Disediakan oleh IDN Times
Anies Ganti Nama Jalan, Ada 5.637 Warga Wajib Ganti KTP Mulai 29 Juni 
Sesuai dengan Keputusan Gubernur No. 565  Tahun 2022 tentang Penetapan Nama Jalan, Gedung dan Zona Dengan Nama Tokoh Betawi dan Jakarta, terdapat 22 nama jalan baru yang berasal dari tokoh Betawi.
Dengan berubahnya nama jalan menggunakan tokoh Betawi, berubah pula kolom alamat di KTP, KIA dan Kartu Keluarga. Untuk itu, Dukcapil DKI Jakarta juga telah berkoordinasi dengan Ditjen Dukcapil Kementerian Dalam Negeri RI untuk mendukung ketersediaan blangko KTP-elektronik dan KIA.
Lebih lanjut, Budi mengajak seluruh masyarakat agar memanfaatkan layanan jemput bola dengan baik.
"Setelah masyarakat mengganti dokumen kependudukannya, maka secara bertahap bisa melakukan penggantian dokumen lainnya sesuai dengan kebutuhan layanannya," lanjut Budi.
3. Ini lokasi pergantian KTP
© Disediakan oleh IDN Times
Anies Ganti Nama Jalan, Ada 5.637 Warga Wajib Ganti KTP Mulai 29 Juni 
Selain itu, Budi turut mengimbau pada seluruh jajarannya untuk memberikan pelayanan prima yang cepat, akurat, tuntas, dan menghindari pungli.
"Kami tidak akan segan memberikan tindakan tegas bagi petugas yang masih memakai cara tidak jujur. Hal ini merupakan bagian dari komitmen kami kepada masyarakat dalam memberikan layanan yang optimal," tutur Budi.
Adapun jadwal layanan untuk Rabu, 29 Juni 2022 sebagai berikut:
1. Jakarta Selatan : Duren Tiga, RW 7/RW 02
2. Jakarta Pusat : Jl. A. Hamid Arief, RW 06/RT 10.
3. Jakarta Timur : Masjid Jami Al-Hikmah Hidayah, Jl. Raya Setu Cipayung, RW 03.
4. Jakarta Barat : Kantor RW 01, Jl. Guru Makmun, Kel. Rawa Buaya
5. Jakarta Utara : Apartemen Gold Coast
6. Kabupaten Kepulauan Seribu : Pulau Panggang, RW 03 dan RW 02
Berdasarkan data dari Dinas Dukcapil DKI Jakarta, sebanyak 5.637 wajib KTP akan diganti data kependudukannya akibat perubahan nama jalan. Adapun rinciannya sebagai berikut:
Jakarta Pusat
1. Jalan Tino Sidin: 264 Wajib KTP
2. Jalan Mahbub Djunaidi: 91 Wajib KTP
3. Jalan A. Hamid Arief: 1 Wajib KTP
4. Jalan H. Imam Sapi'ie: 180 Wajib KTP
Jakarta Barat
1. Jalan Guru Ma'mun: 1.032 Wajib KTP
2. Jalan Syeikh Junaid Al Batawi: 96 Wajib KTP
Jakarta Selatan
1. Jalan KH. Guru Amin: 736 Wajib KTP
2. Jalan HJ. Tutty Alawiyah: 120 Wajib KTP
Jakarta Timur
1. Jalan Haji Darip: 359 Wajib KTP
2. Jalan Entong Gendut: 528 Wajib KTP
3. Jalan Mpok Nori: 451 Wajib KTP
4. Jalan H. Bokir Bin Dji'un: 1.779 Wajib KTP
Jakarta Utara dan Kepulauan Seribu tidak ada wajib KTP yang terkena perubahan data kependudukan. Meski demikian, posko layanan tetap dibuka untuk melayani berbagai kebutuhan warga terkait data kependudukan.
News Related
OTHER NEWS