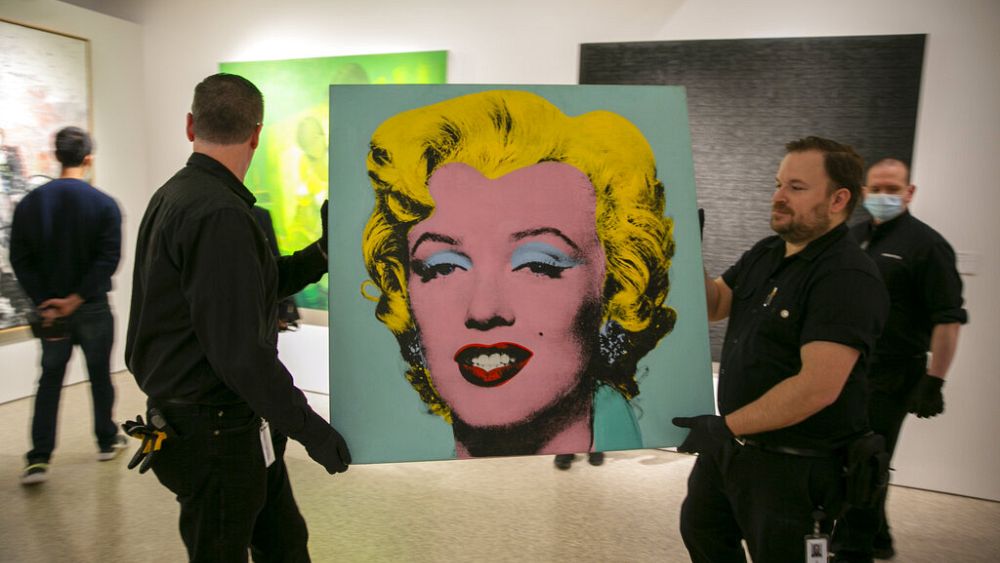 Pop art sanat akımının öncüsü Amerikalı ressam Andy Warhol'un Marilyn Monroe portresi, 195 milyon dolara satıldı. New York'taki Christie's müzayede evinde açık artırmaya sunulan portre 20'inci yüzyıla ait sanat eserleri arasında halka açık satışla en yüksek fiyata alıcı bulan eser oldu.
the latest tech news, global tech news daily, tech news today, startups, usa tech, asia tech, china tech, eu tech, global tech, in-depth electronics reviews, 24h tech news, 24h tech news, top mobile apps, tech news daily, gaming hardware, big tech news, useful technology tips, expert interviews, reporting on the business of technology, venture capital funding, programing language
"Shot Sage Blue Marilyn" adlı eser satışa sunulduğu andan itibaren dört dakika içinde satıldı. Müzayede evinin sahibi Francois Pinault düzenlediği basın toplantısında, satışı kapatan teklifin müzayede evinin Manhattan'daki binasında bulunan katılımcıların birinden geldiğini söyledi. 
Portrenin müzayede öncesindeki satış fiyatının 200 milyon dolar civarında olması bekleniyordu. Her ne kadar satış bu tahminden biraz düşük kalsa da, daha önce satış rekoru kıran 20'inci yüzyıla ait diğer eserleri geride bıraktı. 
Global Tech News Daily
İspanyol sanatçı Pablo Picasso'nun 2015 yılında satışa sunulan "Cezayirli kadınlar" adlı tablosu 179,4 milyon dolara alıcı bularak 20'inci yüzyıl eserleri arasında bir rekora imza atmıştı. 
Tüm zamanların en yüksek fiyata satılan sanat eseri ise Rönesans döneminin ünlü İtalyan ressamı Leonardo da Vinci'nin "Salvator Mundi" adlı eseri oldu, eser 2017'de 450,3 milyon dolara satıldı. 
"Shot Sage Blue Marilyn" adı nereden geliyor?
Global Tech News Daily
1964'te, Holywood yıldızı Marilyn Monroe'nun ölümünden iki yıl sonra tamamlanan eser, Warhol'un Manhattan'daki "The Factory" (Fabrika) adlı stüdyosunda Monroe'nun fotoğraflarını çekerken silahlı bir ziyaretçinin ikiliye karşı ateş açması nedeniyle "Shot" (Atış) adıyla bilinen bir grup ipek serigrafi çalışmasından biri. 
Pop sanatı söylentilerine göre Dorothy Podber adlı bir gösteri sanatçısı, Warhol'den bu çalışmalarını çekmek istediğini belirtti, Warhol da çalışmaların fotoğrafını çekeceğini düşünerek kadını stüdyosuna davet etti. Ancak kadın fotoğraf yerine Monroe'nun portrelerinden birinin alnına silah çekti. Hikayeye göre mermi dört ya da beş kanvası yırttı. Podber'in stüdyoya adım atmasını yasaklayan Warhol daha sonra bu yırtılan portreleri tamir etti.
"Shot Sage Blue Marilyn" adlı eserde Monroe pembe bir yüz, kımızı dudaklar, sarı saçlar ve mavi far ile görüntüleniyor. Esere ismini veren "sage blue" yani adaçayı mavisi ise portrenin arka fonundaki renkten geliyor.
Christie's 100 metreye 100 metre ölçüsündeki çalışmanın "varolan en nadir ve üstün imajlardan biri" olduğunu ifade ediyor. Müzayede evinin 20 ve 21'inci yüzyıl eserler müdürü Alex Rotter, "Andy Warhol'un Marilyn'i Amerikan Pop sanatının mutlak zirvesi ve Amerikan Rüyası'nın iyimserliğini, kırılganlığını, ününü ve ikonluğunu bir anda özetliyor" sözleriyle portreyi tanımlıyor.
Marilyn Monroe aşırı doz uyuşturucu kullanımından 1962'de 36 yaşında hayata gözlerini yummuştu.
News Related
OTHER NEWS