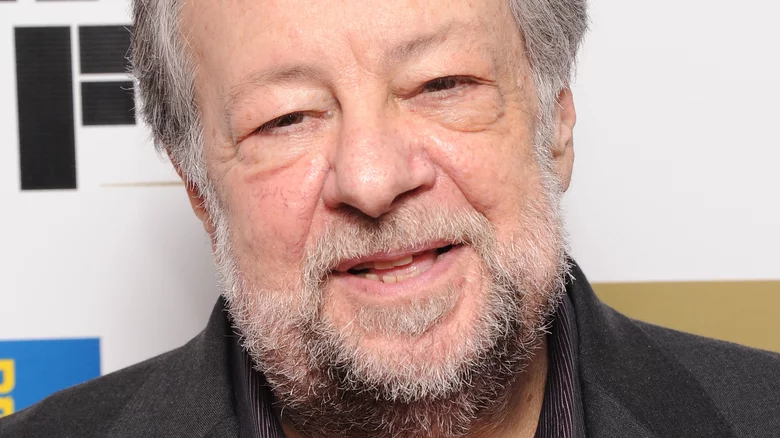 Jamie Mccarthy/Getty Images
It's hard to believe that Christopher Nolan has been writing, directing and producing films for almost a quarter of a century. The cerebral filmmaker, known for his twisty narratives that frequently play out in a non-linear fashion, made his feature debut with 1998's "Following," and has been working fairly consistently ever since, averaging a new directorial effort every two to three years. While there are certainly elements that seem to pop up in all of his films, they are also some of the most original big-budget productions in the modern cinematic landscape, frequently being met with critical and commercial praise. He has even garnered a total of five Oscar nominations for his work on "Memento," "Inception," and "Dunkirk," respectively.
With over two decades in the film industry and 11 feature films to his credit (not to mention next summer's hotly anticipated "Oppenheimer"), it's no surprise that Nolan has collaborated with a wide range of talent. Indeed, some of the most celebrated actors of both the past and present can proudly place at least one of his films on their resumes. But as can happen when you work with such a bevy of talent over such a long span of time, a number of the performers who have helped to bring his stories to life are sadly no longer with us. Some were huge stars, others were humble character actors, yet all are worthy of remembrance. Let's take a moment to celebrate 14 actors who have passed away since working with Christopher Nolan.
Dick Bradsell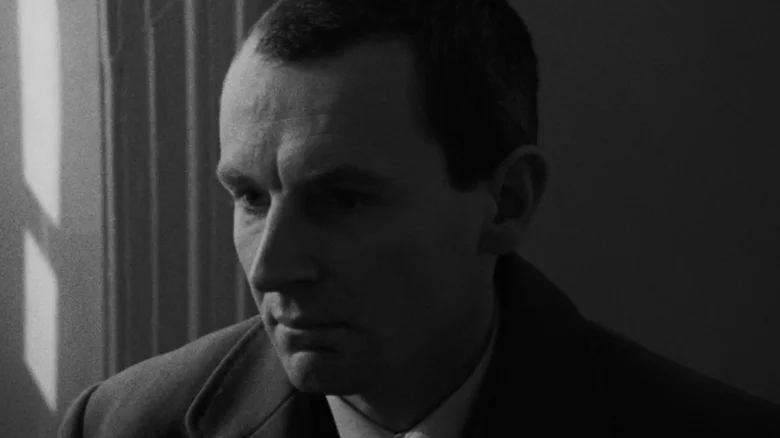 Momentum Pictures
Dick Bradsell made his film debut in "Following," which also happened to be Christopher Nolan's first feature. Though his character is never named and is only listed in the credits as "The Bald Guy," one might actually consider him the villain of the piece. The Bald Guy is a local gangster and bar owner who murders an accountant in his girlfriend's flat. Once it becomes clear that the Blonde (Lucy Russell) plans on going to the police, the Bald Guy recruits a local thief named Cobb (Alex Haw) to help him set up the film's protagonist (Jeremy Theobald) as her murderer. The plan goes smoothly for the criminals, with the film's conclusion implying that Theobald's character will take the fall for her death.
"Following" turned out to be Bradsell's one and only acting credit (though he did appear as himself in an episode of the family series "No 73"). He was actually far better known as a bartender in London, acclaimed for his innovative work with cocktails, and even celebrated by the San Francisco Chronicle as having "single-handedly changed the face of the cocktail scene in London in the 1980s." According to Time Out's guide of London Walks, the bar in "Following" (called Detroit) is actually the bar that Bradsell worked in at the time of filming, and he ended up playing the role of the Bald Guy in addition to assisting with the use of the location. Bradsell died from brain cancer in 2016 at the age of 56.
Larry Holden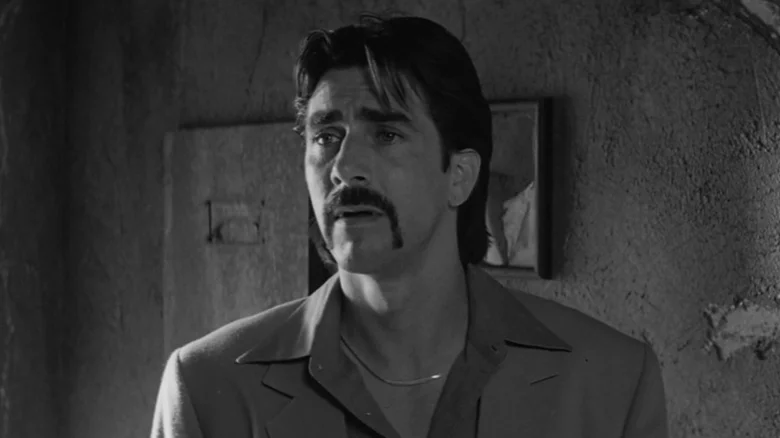 Summit Entertainment
Christopher Nolan is well-known for working with the same actors over and over; just ask Michael Caine, who has appeared in every one of his films since "Batman Begins." But the first of his many regulars was actually a character actor named Larry Holden. The two first teamed up on Nolan's second feature, "Memento," where Holden plays the small but significant role of Jimmy Grantz, a drug dealer who the memory-damaged protagonist (Guy Pearce) takes a particular interest in towards the end of the film. Holden would go on to appear in "Insomnia" as a detective who accidentally alerts the killer to the police's presence, and returned for "Batman Begins" as Gotham D.A. Carl Finch, who worked with Batman's love interest Rachel Dawes (Katie Holmes) in prosecuting a number of criminals, including Joe Chill (Richard Brake) and mob boss Carmine Falcone (Tom Wilkinson).
Outside of his work with Nolan, Holden racked up a respectable number of film and TV credits after first appearing in the 1991 drama "The Arc," frequently popping up for an episode or two in long-running series such as "Charmed," "ER," and "CSI: Crime Scene Investigation." On the film front, he took on leading roles in 1998's "Every Dog Has Its Day" and 2007's "Downtime," as well as playing co-leads in 2009's "The Outsider" and 2012's "Open Vacancy." He even wrote and directed the 2002 drama "My Father's House." Holden passed away following a brief illness in 2011, at the age of 49.
Robin Williams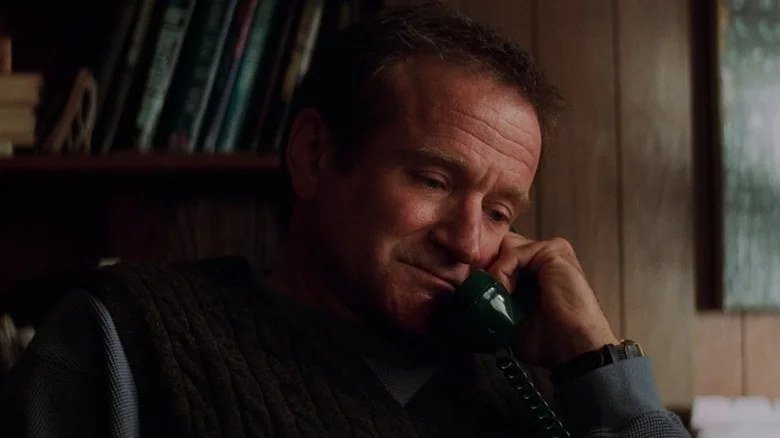 Warner Bros.
Few comedians require less introduction than the legendary Robin Williams, who excelled at making audiences of all ages laugh over the course of decades. What's easy to forget is that he also tried his hand at dramatic work on more than a few occasions, notably when he played the primary villain of Christopher Nolan's third film, "Insomnia." Based on a 1997 Norwegian film of the same name, the story follows an aging, weary detective (Al Pacino), who travels to a small Alaskan town to solve the murder of a local teen. When he finally tracks down the girl's killer, he finds a soft-spoken novelist (played with icy minimalism by Williams) who sees the two of them as kindred spirits. A cat-and-mouse game ensues as the killer tries to blackmail the detective into covering up his horrendous crimes.
While this was far from the only time Williams played a creepy sociopath — see also "One Hour Photo" and his guest appearance on "Law and Order: Special Victims Unit" — he will always be most fondly remembered for his unparalleled comedy chops. Whether it's his more kid-friendly fare like "Jumanji," his indelible voice acting in "Aladdin," or his raunchier material like "Good Morning Vietnam" and "World's Greatest Dad," the broadly talented performer was one of the most beloved of his generation, even earning an Oscar for his performance in "Good Will Hunting." Williams died by suicide at the age of 63 in 2014, leaving behind an incredible body of work to remember him by.
If you or anyone you know is having suicidal thoughts, please call the National Suicide Prevention Lifeline​ by dialing 988 or by calling 1-800-273-TALK (8255)​.
Rutger Hauer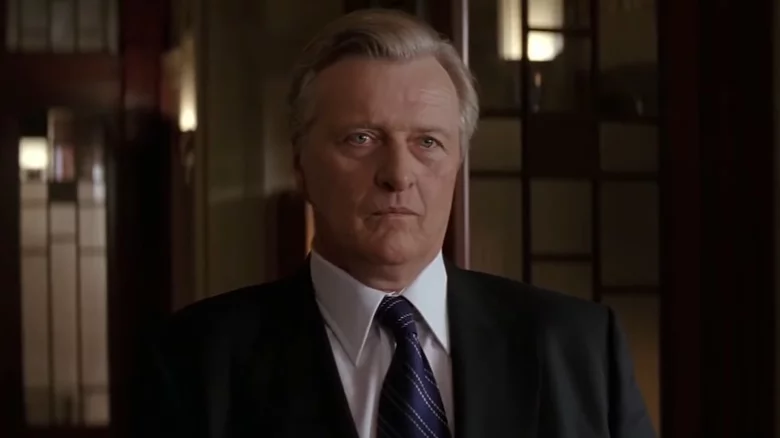 Warner Bros.
Dutch actor Rutger Hauer gained his fair share of notoriety for playing villainous roles in the '70s and '80s, and while his sinister portfolio might make him a perfect fit for a Batman villain on paper, Christopher Nolan utilized the actor's talents in a less obvious manner. In "Batman Begins," Hauer plays Wayne Enterprises CEO William Earle, who takes over the company following the death of Thomas and Martha Wayne and the disappearance of their son Bruce (Christian Bale). Though not a villain in the traditional sense, Earle is clearly motivated by greed and isn't above firing valued staff members (like Morgan Freeman's Lucius Fox) or reprioritizing the company's business model to focus less on charity and more on weapons manufacturing.
After breaking out in his native Netherlands with several early Paul Verhoeven collaborations (most notably the Oscar-nominated "Turkish Delight"), he transitioned to Hollywood with meaty parts in films like 1981's "Nighthawks" opposite Sylvester Stallone, and Richard Donner's medieval adventure "Ladyhawke." Though he crafted a nightmarish killer for his role in "The Hitcher," it was Ridley Scott's sci-fi masterpiece "Blade Runner" in 1982 that landed him his most iconic character, that of renegade replicant Roy Batty, whose oft-quoted monologue towards the end of the film was partly improvised by the actor. Hauer passed away at 75 after a brief illness in 2019.
Gerard Murphy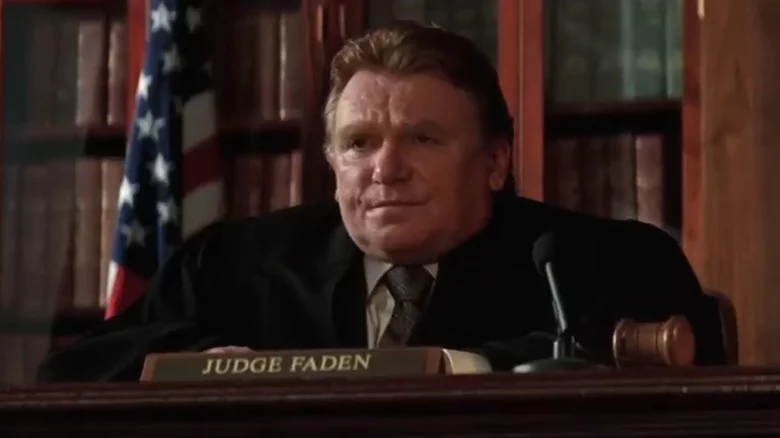 Warner Bros.
Irish actor Gerard Murphy's contribution to Christopher Nolan's filmography came in the form of a significant minor role in "Batman Begins." Murphy plays Judge Faden, a corrupt city official who's known for taking bribes. When Joe Chill comes forth with evidence against his former cellmate Carmine Falcone, the latter pays Faden to make the hearing public so that an assassin has the opportunity to murder Chill. Years later, when Falcone himself is captured by the Batman and is ready for a trial of his own, photos of Faden with a secret mistress are used by Rachel Dawes as leverage in order to ensure the trial is fair. Though he has minimal screen time over the course of the film, Faden is one of several figures used to highlight just how widespread the corruption in Gotham City has become.
Murphy had a lengthy career going back as far as the early 1970s, where he appeared in a number of ITV productions such as the long-running crime series "Z Cars" and the legal drama "Crown Court." A veteran television actor of many years, he made appearances in everything from "Doctor Who" to "The Scarlet Pimpernel." On the film side of things, his highest profile project that doesn't involve Batman would have to be co-starring with Kevin Costner in the sci-fi epic "Waterworld," in which he played the right-hand man of Dennis Hopper's maniacal villain. The actor died in 2013 of prostate cancer at the age of 64.
David Bowie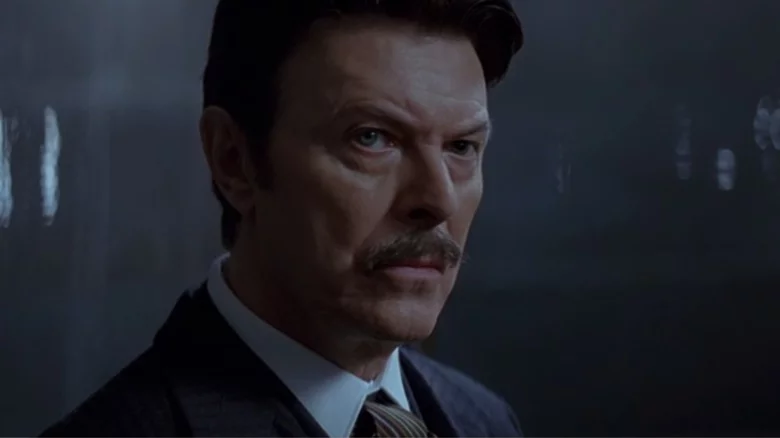 Touchstone Pictures
Who among us is not already familiar with the man, the myth, the legend that was David Bowie? The trailblazing musician was no stranger to the occasional acting gig here and there, and among the most well-known of these was his turn as real-life scientific mastermind Nikola Tesla in Nolan's fifth film, "The Prestige." In this story about two warring magicians whose escalating game of one-upmanship reveals itself to have deadly consequences, Tesla is sought out by Hugh Jackman's Robert Angier, who believes that the scientist built a teleporting machine for his rival, Alfred Borden (Christian Bale). The eccentric Tesla warns Angier about the potential cost of such an obsession, but does ultimately construct the machine before being run out of town by his own rival, an unseen Thomas Edison.
Bowie's contributions to the worlds of music, fashion, and film are too numerous to list here. From his glam rock alter-ego Ziggy Stardust, to his many wildly successful albums, to his 1981 collaboration with Queen on the song "Under Pressure," the man would be considered an icon even if he'd never set foot on a film set. Fortunately for all of us, he did, gracing the screen with a number of inspired performances, including 1976's "The Man Who Fell to Earth" (where he plays an alien traveler), 1986's "Labyrinth" (where he plays a goblin king), and 1996's "Basquiat" (where he plays Andy Warhol). The performer passed away at 69 years old in 2016 from liver cancer.
Roger Rees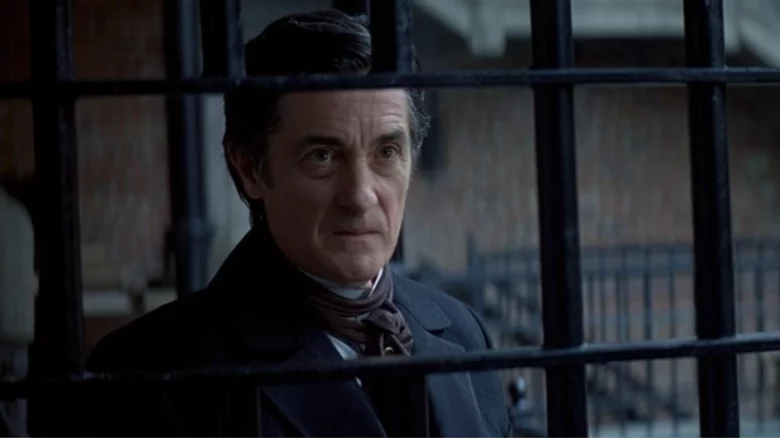 Touchstone Pictures
Welsh stage and screen veteran Roger Rees lent his skills to Christopher Nolan's "The Prestige" in 2006. He plays a man simply known as Owens, who serves as a solicitor and emissary for the mysterious Lord Caldlow. Owens comes to visit Alfred Borden in prison after he's accused of murdering his rival magician, Robert Angier. The lawyer offers to buy Borden's tricks in exchange for helping to prevent his daughter from being sent to the workhouse, by having Caldlow take her in as his ward. Though Borden initially refuses, he ultimately agrees to Owens's terms on the condition that he's allowed to see his daughter again and meet Caldlow in person, who is revealed to be a very much alive Angier.
Rees hails from the Royal Shakespeare Company and received early recognition for his role in the eight-and-a-half hour stage adaptation of "The Life and Adventures of Nicholas Nickelby," for which he won both a Tony award and an Olivier award for his lead performance. His TV credits include recurring roles on popular series like "Cheers" and "The West Wing," as well as guest spots on "Grey's Anatomy" and "Elementary," among many others. From a film standpoint, his best-known roles include playing the Sheriff of Rottingham in Mel Brooks's "Robin Hood: Men in Tights" and Guillermo Kahlo, the father of the titular painter, in Julie Taymor's "Frida." After being diagnosed with cancer, Rees passed away in 2015 at the age of 71.
Ricky Jay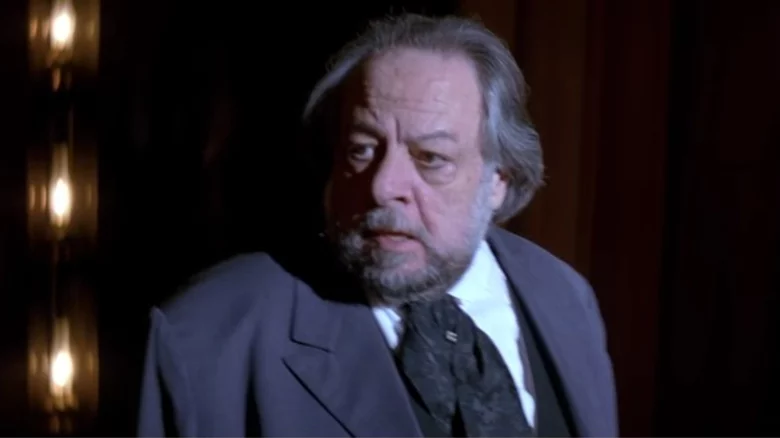 Touchstone Pictures
If you're telling a story about rival magicians, there are few seals of approval more prominent than getting an actual magician to participate. Such was the case with Ricky Jay, who played the character of Milton in Nolan's "The Prestige." Once a revered and inventive practitioner of illusions, Milton is now criticized by his up-and-coming stagehand (Christian Bale's Alfred Borden) of becoming lazy and unwilling to experiment with any new acts. It is at Milton's performance of a water cell trick involving Robert Angier (Hugh Jackman) and his wife Julia (Piper Perabo) that Borden experiments with a different knot, which results in the poor assistant drowning on stage in front of a horrified audience. Though Milton is seen briefly at her funeral, it's doubtful that he's able to return to show business following such an incident.
Widely regarded as one of the most talented sleight-of-hand magicians in the world, Jay was frequently brought onto film productions involving magic as a specialist, and supposedly coached Jackman and Bale on such techniques during the making of "The Prestige." Though renowned for his skill with illusion, he was no slouch when it came to acting, appearing in dozens of projects since the early '80s. Among his most prominent appearances are a pair of collaborations with Paul Thomas Anderson (in "Boogie Nights" and "Magnolia," respectively), as well as playing a supporting villain in the James Bond film "Tomorrow Never Dies." Jay died at 72 in 2018 from natural causes.
Chao-Li Chi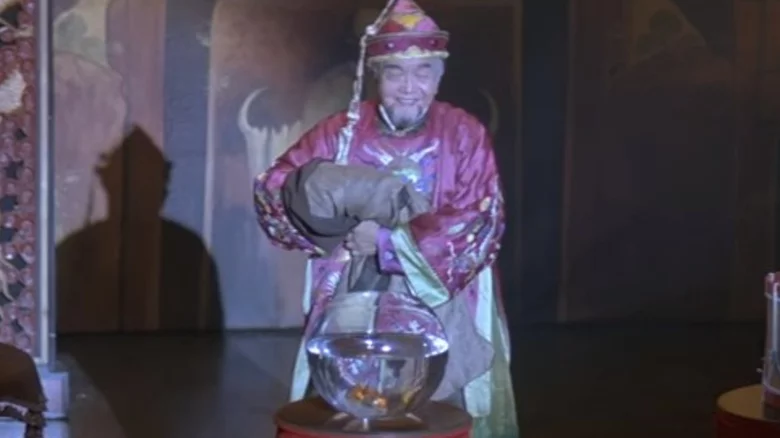 Touchstone Pictures
The character of Chung Ling Soo, who appears in "The Prestige" for only a few minutes and has no lines of dialogue, would not initially seem to be especially important to the plot. But as played by Chinese actor Chao-Li Chi, he is actually an early clue to one of the film's major twists. Inspired by a real-life American magician named William Ellsworth Robinson who took on the persona of Chung Ling Soo, he is seen in the film performing a trick where he produces a fishbowl from thin air. As aspiring magicians Angier and Borden observe the trick, Borden correctly deduces that the real performance is Soo pretending to be a frail old man, when in actuality he is in fine health and carries the fishbowl between his thighs. This observation hints at the lengths to which Borden is willing to alter his life in order to conceal the reality of his own trick, The Transporting Man.
Chi's acting career goes back as far as 1962, when he made his debut as a shop owner in an episode of the crime thriller "Naked City." For decades he made do with bit parts in various film and TV projects, until appearing in John Carpenter's "Big Trouble in Little China." From there he was best known for his regular role in the TV drama "Falcon Crest," as well as playing Chinese elders in films like "The Nutty Professor" and "Wedding Crashers." Chi died in his sleep at age 83 in 2010.
William Morgan Sheppard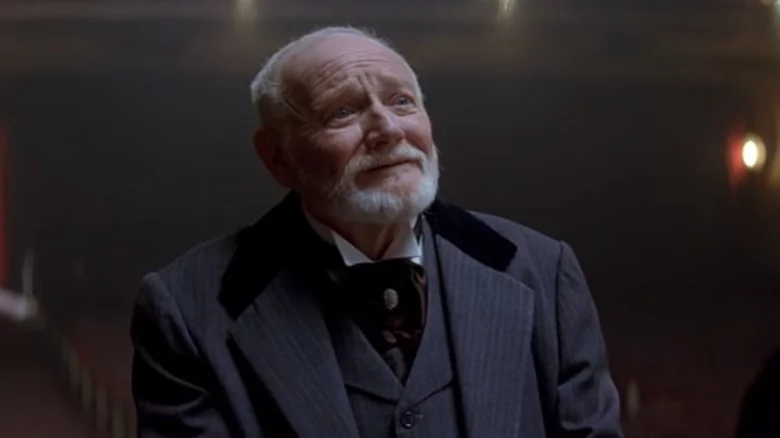 Touchstone Pictures
A 12-year veteran of the Royal Shakespeare Company, William Morgan Sheppard has a small but memorable role in Christopher Nolan's "The Prestige." Following the death of his wife, Robert Angier seeks out his old mentor John Cutter (Michael Caine) to help with setting up a new show. Cutter goes to Merrit (played by Sheppard), the owner of the Grand Scala theater, who agrees to give Angier a week's run after initially being impressed by his disappearing bird trick. However, after Borden sabotages the show in its first night, Merrit is quick to cancel their engagement in favor of a comedian. Later in the film, he is approached by Ackerman (Edward Hibbert), who proceeds to book Angier's new show for 100 nights, forcing him to cancel the Moscow ballet that was previously scheduled.
A stage veteran with decades of experience both in London and on Broadway, Sheppard also found time to accumulate a whopping 191 film and TV credits over the course of his impressive career. After making his film debut in the 1962 heist drama "Strongroom," he scored a role as the Fencing Master in Ridley Scott's feature debut, "The Duellists," appeared in the 1980 TV adaptation of "Shogun," and went on to play various different characters in a number of "Star Trek" properties, including "The Next Generation," "Voyager," "The Undiscovered Country," and the 2009 reboot directed by J.J. Abrams. The actor passed away in 2019 at the age of 86. No cause of death was released by his family.
Heath Ledger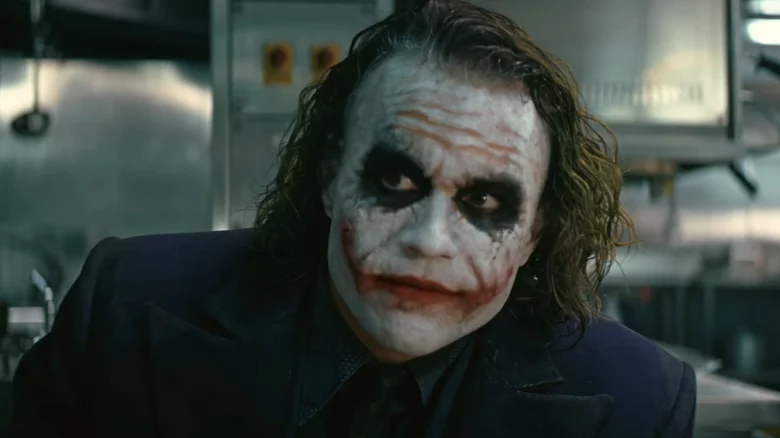 Warner Bros.
When Australian heartthrob Heath Ledger was announced as Batman's arch-nemesis in "The Dark Knight," many fans weren't sure how this pretty boy would be able to bring the Joker to life. They needn't have feared, because Ledger's performance has since become the stuff of legend. Much has been written about how the role affected him, but whatever you choose to believe, the intensity and ferocity of the performance is undeniable. He moves through the film as a chaotic, unpredictable force of nature, challenging Batman at every turn, frequently proving to be two steps ahead. Often terrifying, but always riveting, the performance ultimately earned Ledger a posthumous Oscar for Best Supporting Actor, making him the only actor to date to win the gold for a Christopher Nolan film.
Though the young actor's legacy will likely be dominated forever by the Joker's shadow, there's no shortage of great roles leading up to his crowning achievement. He broke out in the American mainstream in a big way with 1999's high school Shakespeare adaptation "10 Things I Hate About You," proved to be a charismatic leading man in 2001's "A Knight's Tale," and served as one half of a tragic love affair in the Oscar-winning drama "Brokeback Mountain." His final performance in Terry Gilliam's "The Imaginarium of Doctor Parnassus" was only half-finished, leaving his remaining scenes to be split up between Johnny Depp, Jude Law and Colin Farrell. In 2008, before "The Dark Knight" was released, Ledger died of an accidental overdose at only 28 years old.
Tommy 'Tiny' Lister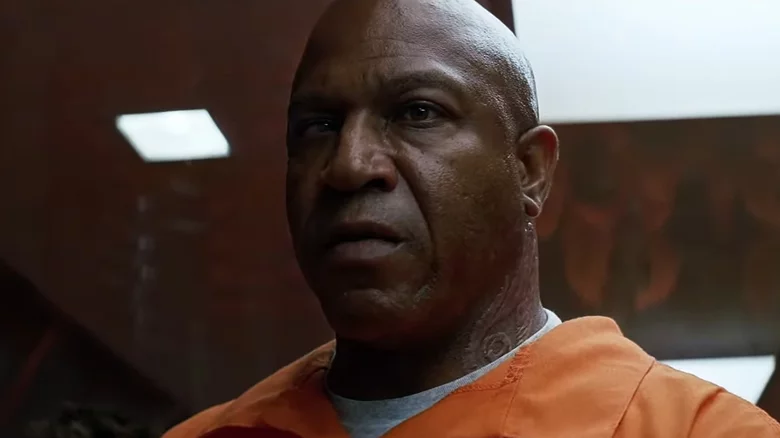 Warner Bros.
Few actors have a screen presence quite as distinct as what Tommy "Tiny" Lister brought to the table. The former wrestler plays a tattooed prisoner that shows up for a single scene towards the end of "The Dark Knight," but despite his limited screen time he leaves a considerable impression. By this point, the Joker (Heath Ledger) has unveiled his final ploy, which is to rig two ferries full of people with explosives. One is filled with civilians, the other with inmates, and each ferry has the remote to blow up the other. As the prison ferry gets unruly and everyone screams at the hapless captain, Lister calmly approaches him and requests the remote. Instead of using it to blow up the other ferry, he throws it out the window, shattering the Joker's theory that people will always destroy each other when desperate.
After concluding his tenure with WWF under the stage names Zeus and ZGangsta, Lister transitioned to acting with a number of roles (such as "8 Million Ways to Die" and "Extreme Prejudice") that took advantage of his 6 foot, 5 inch stature by casting him as a fearsome bodyguard. Before long, he was able to expand his range by playing the neighborhood bully in the "Friday" films, collaborated with Quentin Tarantino for "Jackie Brown," and even played the President of the Galactic Federation in Luc Besson's sci-fi epic "The Fifth Element." Lister was found dead in his home at age 62 in 2020, having succumbed to heart disease.
Pete Postlethwaite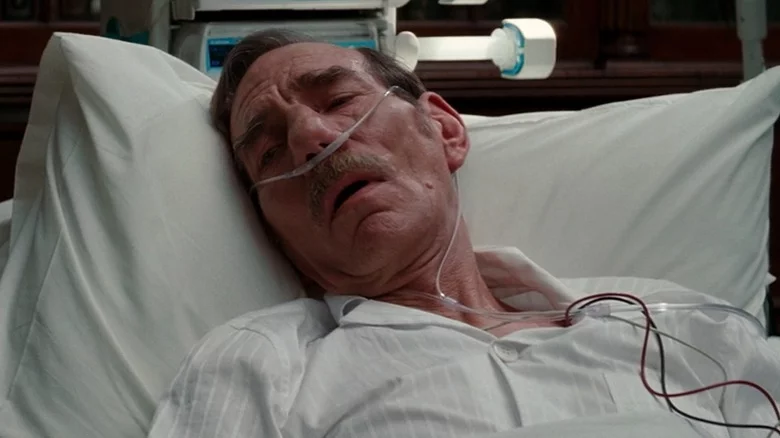 Warner Bros.
A distinguished character actor with years of credits on both stage and screen, Pete Postlethwaite's role in Christopher Nolan's "Inception" would prove to be one of his last. Eerily, he plays a man on his deathbed, Maurice Fischer, whose passing will trigger the inheritance of his massive corporation by his troubled son, Robert (Cillian Murphy). Fischer's rival, Saito (Ken Watanabe), hires a team of thieves led by Dom Cobb (Leonardo DiCaprio) to invade the younger Fischer's mind through his dreams and convince him to dissolve his father's empire. This is achieved near the end in a heartbreaking scene between Fischer and a projection of his father, who laments that his son didn't try to be his own man.
Even in the final year of his life, Postlethwaite managed to stay busy: in addition to "Inception," he also starred in "Clash of the Titans," "Killing Bono," and "The Town." Before that, he did the rounds on stage and in various TV productions before starting to appear in higher profile films such as "Alien 3" and "The Last of the Mohicans." He received his only Oscar nomination playing opposite Daniel Day-Lewis in Jim Sheridan's "In the Name of the Father," and before long was stealing scenes in ensemble films like "The Usual Suspects" and "Romeo + Juliet." After working with him on "The Lost World: Jurassic Park," Steven Spielberg called him "probably the best actor in the world." Postlethwaite died of cancer in 2011 at age 64.
Earl Cameron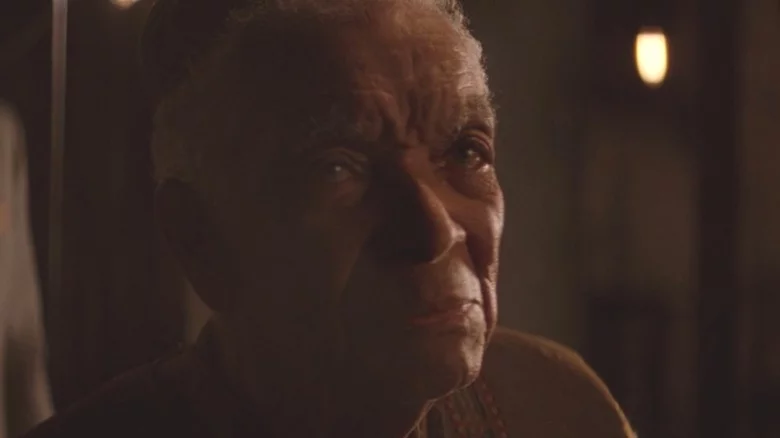 Warner Bros.
The Bermuda-born actor Earl Cameron only appears in Christopher Nolan's "Inception" for a minute or two. Yet his single line of dialogue proves not just quite memorable, but plants a seed for the film's ending, which many viewers required additional viewing to fully understand. Dom Cobb goes to visit a chemist (Dileep Rao), whom he is told is able to manufacture a sedative that will knock out him and his team for the length of their required mission. In order to demonstrate the chemical's effectiveness, the chemist introduces Dom to a room full of people currently hooked up to it, who now spend more time dreaming than in the real world. As the Elderly Bald Man (Cameron) who watches over them explains: "The dream has become their reality. Who are you to say otherwise?"
After making his film debut in the 1951 crime drama "Pool of London," Cameron rarely found himself out of work, regularly appearing in film noirs and African-set adventure films such as 1960's "Tarzan the Magnificent" and its follow-up, "Tarzan's Three Challenges." His brief role in "Doctor Who" marked the first time that a black astronaut had been depicted on screen. In 1965, he played a Bahamian ally to James Bond in "Thunderball," and in 2005 played the corrupt president of a fictional African country opposite Nicole Kidman and Sean Penn in "The Interpreter." He passed away in his sleep at the ripe old age of 102 in 2020.
News Related
OTHER NEWS