things to do in dubai
Have a great week…
If the question on your mind is 'How is it already Monday?', you are not alone. Thankfully there are plenty of things to do in Dubai to keep you going. From visiting a popular pop-up to reliving those Expo vibes, checking out an art exhibition and more – so take your pick and have a fantastic time
Here are 8 fantastic things to do in Dubai this week.
Monday, March 27
Go visit the
Not a Space pop-up
Missed a visit to Not A Space in Al Faya, Sharjah? Well, lucky for residents in Dubai, Not a Space has set up Not a Majlis at the picturesque Madinat Jumeirah. You'll find it at Fort Island where you can go snap-happy thanks to the gorgeous Arabian citadel-inspired city views. Sip on their delicious coffee and for food, there are burgers to chicken strips, fries, nachos, and even pasta. You will get to enjoy Ramadan-inspired entertainment from singers to Oud players and more or you can get competitive with loved ones and play a couple of games. Another highlight of your evening is the Ramadan cannon – but head there before sunset to see it.
Not a Space pop-up, Fort Island, Madinat Jumeirah, Dubai, open daily 6.30pm to 3am. @notaspace
Join TheGivingFamily in handing out food
This is probably one of the most easiest and fulfilling ways to donate over the month of Ramadan, as you will be giving your time and energy to a good cause. TheGivingFamily go around the city and distribute food bags to those in need, but they need your help in handing out the bags. The team posts their location the night before on their official Instagram account, so if you want to help out, all you need to do is check the location, show up and help them distribute. See their amazing work on their stories and if you have any further questions, feel free to DM the team.
@thegivingfamily
Tuesday, March 28
Pay a visit to Grand Jumeirah Mosque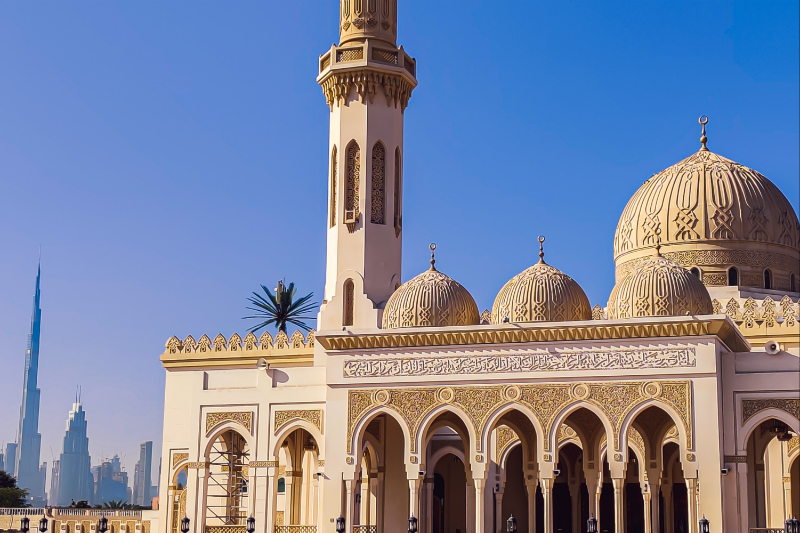 jumeirah mosque
The Grand Jumeirah Mosque first opened back in 1979 and was a gift from the Late Sheikh Rashid bin Saeed Al Maktoum, the former Ruler of Dubai and father of the current Ruler of Dubai HH Sheikh Mohammed bin Rashid Al Maktoum.  This architectural treasure has grown to be one of the emirates' most loved landmarks for its interactive Open Doors. Open Minds program. Located in Jumeirah 1, the mosque is open to the public at 10am and 2pm every day except Fridays (timings may differ during Ramadan). The 75-minute tour costs Dhs35 per person and comes with light Emirati refreshments at the majlis before the program starts so be sure to get there early for registration.
jumeirahmosque.ae
Hit the waves in Dubai
surf-house-dubai
Adventure seekers, have a spare few hours in your day thanks to Ramadan timings? Make a beeline for Sunset Beach where you can rent a surfboard or standup paddleboard from the Surf House (from Dhs75 an hour) and enjoy a paddle in the shadow of Burj Al Arab.
Surf House Dubai, Villa 12A, Umm Suqeim, Jumeirah 3, daily 7am to 7pm. Tel: (0)50 504 3020. surfingdubai.com
Wednesday, March 29
Soak in art with an important message at ME Dubai
me dubai art exhibition
Located on the third floor of ME Dubai, artist Natalia Kapchuk will be showcasing her first solo show. All of her works are mixed-media creations that showcase the beauty of our world with the conflicting effects that human activity has had on it. Some of her pieces will also be displayed in the lobby – so make sure not to miss them. You only have until the end of the month to go and see it.
ME Dubai, The Opus by Omniyat, Al A'amal St, Business Bay, Dubai, Tel: (0)4 525 2500, melia.com
Get into the Ramadan spirit at Expo City Dubai
Expo City Dubai may not be high on your list of spots to visit ever since Expo 2020 Dubai closed but over Ramadan, there are plenty of reasons to visit. Not only will the ever-stunning Al Wasl Plaza be home to a Ramadan cannon, but there is also a must-see Ramadan market called Hai Ramadan. There will be a number of enticing dining experiences with a diverse selection of food trucks where you can enjoy iftar and suhoor. A few popular favourites include Jailbird, Pickl, Wingstop, Alkebulan, Shawarma Vibes, Baskin Robbins, Floozie, House of Pop, Al Fanar and much more. There will even be a Ramadan-themed projection on the stunning Al Wasl Dome. Additionally, there will be cultural performances and kids' workshops. The best news? Access to Expo City Dubai is complimentary.
@expocitydubai
Thursday, March 30
Go on a desert adventure with Platinum Heritage
Platinum heritage ramadan
If you are on the lookout for a special Ramadan experience, look no further than the award-winning Platinum Heritage – Dubai's only eco-luxury desert safari company. The unique offering during Ramadan is not only packed with delicious food but showcases the UAE's culture and heritage through an immersive desert experience. It is available until April 21 and includes a vintage Land Rover drive, an authentic Arabic four-course meal and activities such as camel rides and falcon interactions plus an interactive and informative stargazing session.
For more information or to book your experience, visit platinum-heritage.com or call 04 412 6333.
Last chance: See the works of Bansky at ToDA
Banksy
Street art fans will be able to soak in the works by one of the most important figures in the world of Art: Banksy. The street artist is known for being famously unknown. He is the mystery man behind some of the most renowned graffiti in the world including Girl with a Balloon, Flower Thrower and Mobile Lovers. All of these works have earned him an elite art status, without him ever revealing his identity. If you haven't seen his works in real life, you will be able to experience Banksy in Dubai at ToDA in its 360° art exhibition titled Banksy 360. Art of the Rebel. March 30 however, is the last day you have to see it.
Banksy 360. Art of the Rebel, Theatre of Digital Art, Souk Madinat Jumeirah Dubai, March 16 to 30, 10am to 10pm (30 minute shows), Tel: (0)4 277 4044. toda.ae
Images: Social and supplied 
News Related
OTHER NEWS