The earthquake came amid continuing anti-lockdown protests as Australia tries to contain a coronavirus outbreak driven by the delta variant.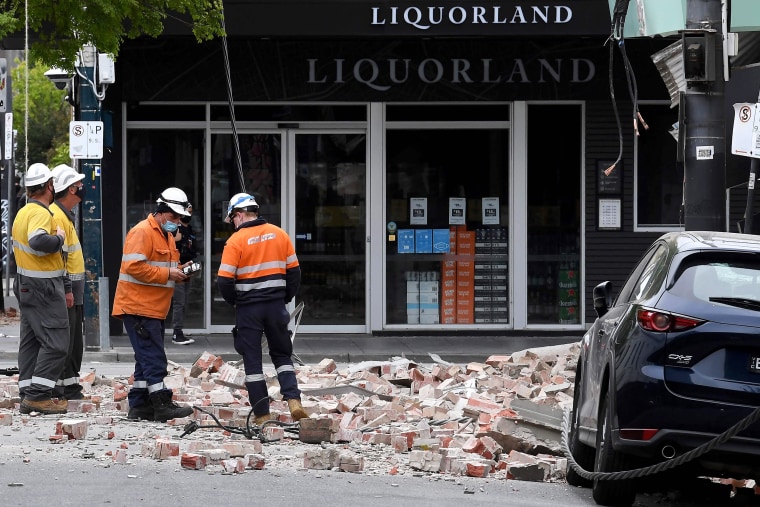 A 5.9-magnitude earthquake struck southeastern Australia on Wednesday morning, causing shaking in Melbourne, officials said.
There were no immediate reports of injuries following the unusually powerful earthquake, which occurred shortly after 9 a.m. local time (7 p.m. ET Tuesday).
The U.S. Geological Survey said the earthquake had a depth of about 6.2 miles. There was no threat of a tsunami, officials said.
The epicenter was near the town of Mansfield, which is about 80 miles northeast of Melbourne, Australia's second-largest city and capital of the state of Victoria.
The Victoria State Emergency Service said there were "numerous accounts of building damage across multiple areas in metropolitan Melbourne." Volunteers with the organization responded to more than 100 calls for help, mostly involving damage to building facades or chimneys in older structures, it said.
A woman in the Melbourne suburb of Carrum Downs told Seven News that she ran out of her house.
"The walls were moving," she told the news organization.
Prime Minister Scott Morrison, who is in Washington, said there had been no reports of serious injuries.
"It can be a very disturbing event, an earthquake of this nature. They are very rare events in Australia, and as a result, I am sure people would have been quite distressed and disturbed," Morrison told reporters.
Police in the neighboring state of South Australia said the earthquake was felt in Adelaide, the state capital, which is around 450 miles from the area of the epicenter. It said there was no damage in the state.
The government agency Geoscience Australia said the earthquake was followed by a series of aftershocks, and that there could be more in the coming weeks.
The earthquake came amid two days of anti-lockdown protests in Melbourne that involved clashes with the police, with three officers injured and several dozen protesters arrested on Tuesday. Protesters gathered again on Wednesday amid heightened security measures, and hundreds were dispersed after a standoff with the police at a war memorial that lasted almost three hours.
The protests began after officials shut down construction sites for two weeks, citing noncompliance with new vaccine requirements for construction workers. Politicians and union leaders suggested that far-right and anti-vaccination groups had orchestrated some of the protests and encouraged violence.
"There were some people there who you would say were from the building industry. There were others who were not from the building industry," Victoria Premier Dan Andrews told reporters on Wednesday. "They're not there to protest, they're there for a fight, they're there to pretend to be protesting."
Protests have been a frequent occurrence in Australia throughout the pandemic as various parts of the country have moved in and out of lockdown, with Melbourne's 111-day lockdown last year among the longest in the world.
The country's current coronavirus outbreak, which is driven by the more contagious delta variant, has prompted weekslong lockdowns in Melbourne, Sydney and the Australian capital, Canberra. Restrictions in Melbourne and Sydney are expected to be eased next month when vaccination goals are reached in their respective states.
Victoria state officials on Wednesday reported 628 new locally acquired virus cases, the highest one-day toll this year.
Australia, a country of 25 million people, has reported about 90,000 total cases and fewer than 1,200 deaths.
Internet Explorer Channel Network