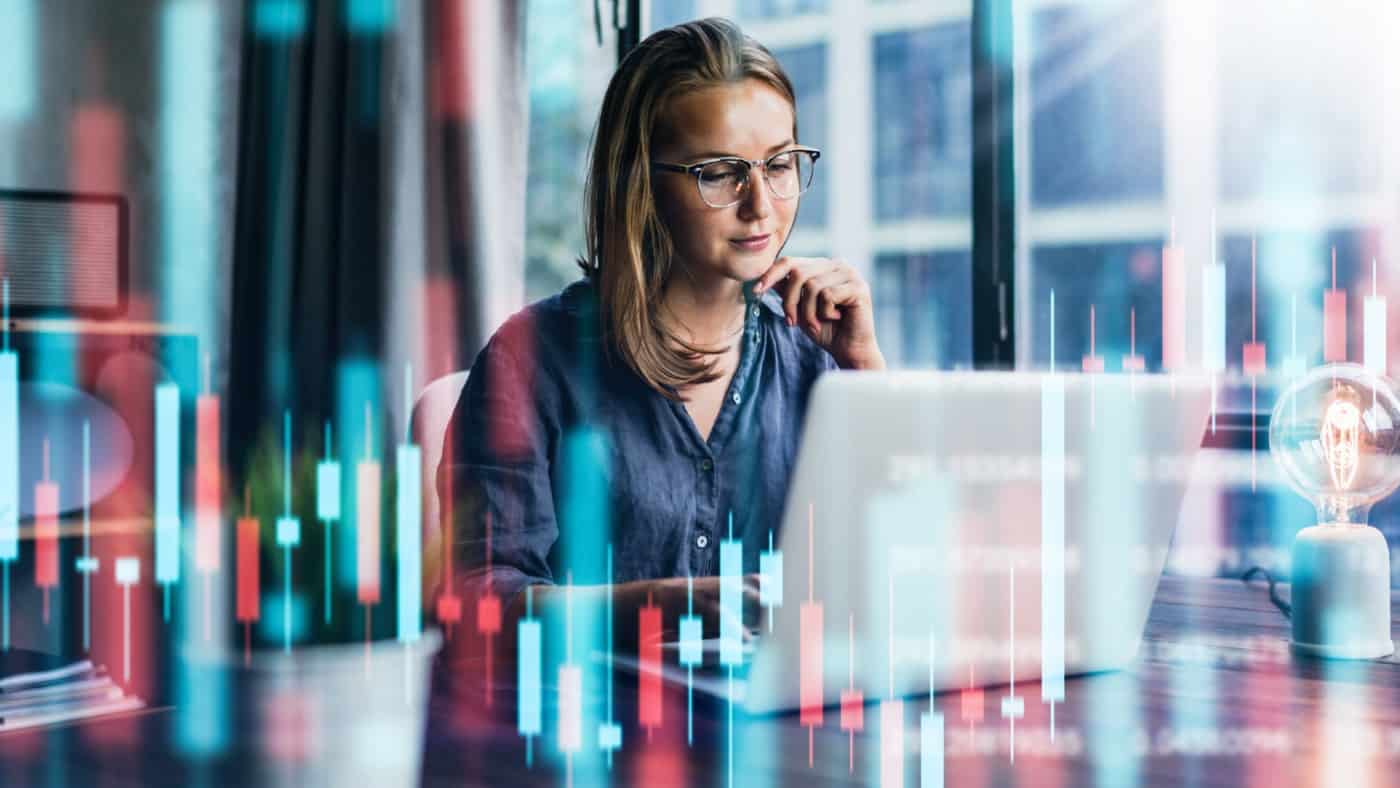 Young woman working at modern office. Technical price graph and indicator, red and green candlestick chart and stock trading computer screen background.
With the deadline for new contributions to one's Stocks and Shares ISA, I have been thinking about how I might take advantage of it.
One approach would be to invest my ISA with the objective of generating substantial passive income in the form of dividends. As an example, if I wanted to target £1,600 in yearly passive income from a Stocks and Shares ISA with £20,000 cash in it, here is how I would go about it.
Target yield
Is such a goal realistic?
I think so. It would require me to earn an average dividend yield of 8%. That is high but it is not unrealistic in today's market.
Quite a few blue-chip FTSE 100 shares currently have a yield of 8% or above, including Barratt, Legal & General, M&G, Phoenix, Taylor Wimpey, and Vodafone. On top of that, there are some investment trusts with 8%+ yields.
But just because a share pays a certain dividend now does not mean that it will continue doing so. So, when investing my Stocks and Shares ISA, I follow a couple of principles. I diversify across different shares. With £20,000, I could split the money evenly between five to 10 shares.
I also focus on buying shares in brilliant businesses at what I regard as an attractive valuation. That means that I do not just focus on yield. I hunt for quality at the right price and only then consider my dividend objectives.
Finding shares to buy
What makes a great business?
First I look for a company operating in an area I expect to keep experiencing high customer demand. Then I consider whether it has some competitive advantage that can set it apart from rivals in that field, such as patented technology or a strong brand. That helps give a firm pricing power and that can help it make profits.
I look for an attractive share price, even if my investment objective is dividend income not a share price increase. After all, despite being a long-term investor I may still want to sell the shares at some point in future. If I have generated a lot of dividend income from them but end up selling the shares at a heavy loss, the lifetime value of my Stocks and Shares ISA may end up being down overall.
At this point I also consider dividend yield. If I want to target £1,600 in annual income and a share's yield is not high enough to help me do that, I may decide not to buy it for my income portfolio just yet. If the share price falls in future, the yield potential could rise to a level I find attractive.
Using my ISA allowance
Putting £20,000 into a Stocks and Shares ISA would use up my annual allowance. Once the money is in the ISA, I do not have to invest it immediately or indeed even soon.
Instead, I can and would take time to choose the sort of high-quality income shares I hope might generate large dividends for years or decades to come.
5 stocks for trying to build wealth after 50
Inflation recently hit 40-year highs… the 'cost of living crisis' rumbles on… the prospect of a new Cold War with Russia and China looms large, while the global economy could be teetering on the brink of recession.
Whether you're a newbie investor or a seasoned pro, deciding which stocks to add to your shopping list can be a daunting prospect during such unprecedented times. Yet despite the stock market's recent gains, we think many shares still trade at a discount to their true value.
Fortunately, The Motley Fool UK analyst team have short-listed five companies that they believe STILL boast significant long-term growth prospects despite the global upheaval…
We're sharing the names in a special FREE investing report that you can download today. We believe these stocks could be a great fit for any well-diversified portfolio with the goal of building wealth in your 50's.
Claim your free copy now
More reading
C Ruane has positions in M&g Plc. The Motley Fool UK has recommended Vodafone Group Public. Views expressed on the companies mentioned in this article are those of the writer and therefore may differ from the official recommendations we make in our subscription services such as Share Advisor, Hidden Winners and Pro. Here at The Motley Fool we believe that considering a diverse range of insights makes us better investors.
News Related
OTHER NEWS