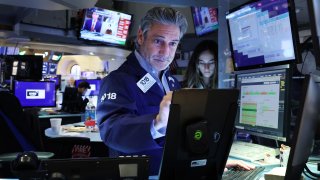 Spencer Platt | Getty Images
The yields on the 10-year and 2-year Treasurys fell on Monday as markets began a new quarter and investors looked ahead to fresh economic data.
The benchmark 10-year Treasury was down 2 basis points at 3.778% at around 6:30 a.m. ET. The yield on the policy-sensitive 2-year Treasury was at 4.192%, down by about 2 basis points.
Yields and prices have an inverted relationship. One basis point is equivalent to 0.01%.
Markets began the final quarter of the year on Monday, with investors still digesting the negative end to the third quarter that saw the Dow Jones Industrial Average, S&P 500 and Nasdaq Composite stumble.
All eyes will be on the release of manufacturing PMI data for September. That will give traders insight into factory growth, which has in recent months been at low levels close to those seen during the Covid pandemic in 2020.
Manufacturing PMI data measures the amount of goods produced, and therefore reflects whether demand has increased or weakened. This will provide insights into how the economy is faring as inflation continues to rise.
Both global and U.S.-specific data will be released.
Several Federal Reserve speakers are also due to make comments. In remarks last week, the central bankers had struck a hawkish tone and broadly indicated that they would continue to fight persistently high inflation by hiking interest rates.
That has raised concerns about a recession among some investors who fear the central bank is hiking rates too quickly.
News Related
OTHER NEWS